In our fast-paced world, first impressions matter, and they have a significant impact when dealing with customers. You only have one opportunity to leave the first impression, which is often up to your contact center.
Whether you are running a small help desk or a large group of customer support agents, ensuring high-quality customer experiences must be at the very top of your list of priorities. Customers want an instant, reliable service that communicates with them on their chosen channel or platform. Your call center operational efficiency needs to be at peak performance, or you risk customer dissatisfaction.
What is Call Center Operational Efficiency?
Defined, operational efficiency is the ratio of output gained from your business (profit, revenue, cash) as input (operating costs, people, and time/effort). The more efficient your business, the more profitable you are. You can get the same return (revenue) with lower costs and effort.
According to a recent survey of 1,300 global CEOs, 77% say their primary focus is creating operational efficiencies and driving revenue growth. They recognize that making processes run smoothly will improve their business impact and translate into external customer experience improvements.
Now, let's talk about what call center operational efficiency looks like.
The Importance of Call Center Processes Improvement
Every day and week, your call center carries out hundreds of processes—everything from handling customer interactions to inputting time cards, attending meetings, training, etc. To measure call center operational efficiency, you have to measure both the amount of effort you put in as well as what you get out of it.
For example, you would have to measure how long your agents spend on customer calls versus the customer satisfaction you get out of it. Or you have to measure time spent training versus the benefits—cash and otherwise. And those are just two small pieces of the puzzle.
Minor improvements in almost any call center process can increase significant efficiency. You have to identify the tasks and areas of your contact center that can be the most quickly and easily improved.
10 Call Center Operational Efficiency Tips
To help you out, we've come up with a list of 10 call center process improvement ideas. These operational efficiency tips will help you gain greater profits and customer satisfaction.
1. Develop a Strategic Call Center QA Framework
Developing a thriving call center Q, A framework is paramount to improving customer experience and building brand loyalty: contact center success and productivity hinges on evaluating agent performance accurately and using that information to improve CX.
A strategic QA framework will help you evaluate agent performance and training, collaborate effectively, understand the customer experience, and increase operational efficiency. The challenge is implementing the right technology and systems to collect data without the need for significant resources.
To be able to step back and look at the big picture, there are eight questions you need to answer:
Who defines quality (customers, regulators, leadership, etc.)?
For which outcomes (performance, compliance, improvement, innovation)?
From what inputs (surveys, evaluations, analytics, self-scoring)?
What drives quality (processes, systems, needs, self-managed)?
Who gets involved (leadership, QA team, analysts, agents)?
Why get involved (recognition, reward, career benefits)?
How is quality improved (performance management, coaching, training)?
What is a success (metrics, behaviors, feedback, NPS)?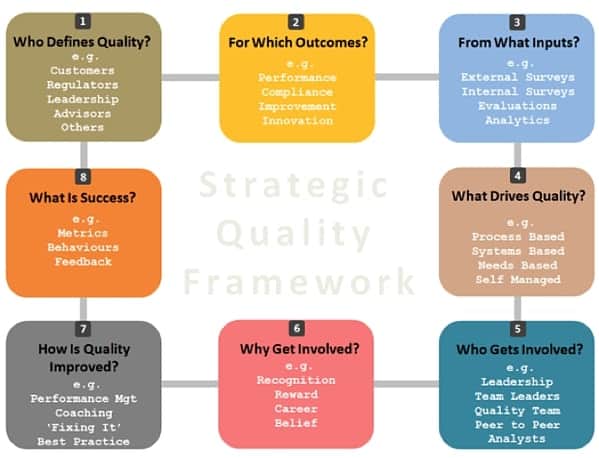 A Strategic Quality Framework chart by Martin-Hill Wilson, the founder of customer service and customer experience consultancy, Brainfood.
A strategic QA framework is less about micromanaging and understanding and respecting your agents and management team.
2. Focus on Your Net Promoter Score (NPS)
The ultimate goal of your call center is to provide positive customer experiences. But you can't do this without first evaluating how successful you are at helping your customers. That's why your Net Promoter Score (NPS) is critical. It can help you operationally, tactically, and strategically.
Your NPS is the gold standard for measuring customer experience and customer loyalty. Your goal should be to make Promoters (a score of 9-10) of as many customers as possible. If you do this, you could outgrow your competition by 2.5 times and expand your revenue by 24%.
So, how do you implement and improve NPS?

There are seven steps

:
Measure QA as part of your daily operation to streamline and adjust your processes as needed.
Listen to customer calls and evaluate each interaction for what works and what doesn't for the optimal outcome.
Engage with your customers and ask for feedback, whether they are Promoters, Detractors, or Passives.
Identify poor-performing agents and provide regular training, coaching, and advising.
Deliver consistent service by setting attainable benchmarks that are measurable and easily translatable, and shareable.
Remove silos in the call center that require customers to move from one department to another to gain their assistance.
Implement your strategic quality assurance framework, which we discussed above.
3. Omnichannel Efficiency Tips
According to a recent study of contact centers, 55% use at least seven channels in their customer experience (CX) programs. But unfortunately, only 13% are delighted with their ability to use data to manage customer interactions. You must ensure consistency and personalization of interactions across all channels, where adequate omnichannel support is critical.
Providing personalized customer service should heighten the overall contact center experience. To drive customer engagement and provide authoritative solutions, customers need to be routed to the correct person who can assist them—both in terms of knowledge about the type of question the caller inquires about and possessing the right authority to help the caller.
If customers are sent to the wrong department and need to be redirected multiple times, traffic becomes congested and slows the whole call center down. They are segmenting customers by sstreamlinetatching the right customer to the right agent. This will improve customer satisfaction by pairing the customer with a skilled agent who can officia get with their query.
Implement contact center technology to facilitate customer engagement in real-time. CRM software is essential to break down typical department, channel, and system silos.

Empower agents to be authentic and relevant across channels by training them in soft skills such as tone of voice, empathy, and willingness to listen.

Personalize the customer experience via channel by using customer data to keep track of customer history and provide consistent interactions.

Implement planning and routing strategies to dynamically match customers from any touchpoint, over any channel, to the right agent to help.

Perform regular QA across channels using a quality scoring system to measure all aspects of the customer experience.
4. Optimizing Call Center Agent Workflows
According to a study conducted by Aberdeen, agents spend 14% of their time looking for information to help customers. Agents also face roadblocks and struggle when it comes to:
The ability to collaborate (39%)

Outdated technology and infrastructure (26%)

Lack of budget to update technology and processes (25%)

Turnover of high-performing agents (25%)

Lack of real-time access to relevant data (25%)
Worse yet, 74% of call center agents are at risk for burnout, and 30% are at severe risk. So, optimizing your workflow is necessary for contact center agents to handle customer support with positive results effectively.
Develop an organizational chart that will help you determine who is responsible for what, what tools are available, and how customer service inquiries are assigned.
Prioritize support by deciding how you'll answer support tickets—either on a first-come, first-serve basis or based on channel, task, and customer.
Categorize inquiries by segmenting your customer service requests by type and category: marketing, development, sales, IT, etc.
Enable self-service by providing your customers with answers to their most common questions via a knowledge database.
Analyze data by setting KPIs that you'll use to track productivity and agent performance.
Test different approaches to call center workflow, constantly asking for feedback from your agents, customers, and management to improve efficiency.
5. Develop an Effective Call Center Management Team
Unfortunately, most companies (77%) are currently experiencing a leadership gap. They don't have a solid management team to accomplish even the most basic tasks: hiring, satisfying customers, and increasing profits. This means that many call centers flounder when setting objectives, crafting goals, and providing reliable, efficient, and effective supracticalboth staff and customers.
To change this, first and foremost, your call center needs to hire contact center managers that are exceptional communicators, detail-oriented, and possess a deep understanding of customers, agents, and service.
Customer Service: They are the first and last line of defense for satisfaction.

Empowerment: Leaders who empower their employees are engaged in driving success.

Employee Monitoring and Training: Managers must be able to track employee performance, identify issues, and develop training to solve performance issues.

Communication: Leaders must be able to inspire, motivate, and persuade.

Problem-Solving: A manager's role is to proactively reduce conflict and solve problems.

Integrity: Managers must demonstrate ethical behavior, including honesty, integrity, and morality.

Emotional Intelligence: Leaders must create a positive culture and improve the customer experience through empathy and likability.

Data-Based Decisions: They must be able to establish goals and objectives based on KPIs designed for making better decisions.

Technologically Advanced: They keep up-to-date with the latest call center technology to implement new resources.
If you hire and train the proper call center management, you should have a leadership team that increases productivity, maximizes efficiency, and promotes cost-effectiveness. They'll solve problems, look at the bigger picture, analyze data, and lead your call center toward achieving its goals.
6. Implement Call Center Agent Feedback Loops
Empowered employees are associated with more robust job performance and job satisfaction. They are also more committed to reaching their goals, demonstrating initiative, and providing exceptional customer service. And one of the best ways to empower your agents is to not micro-manage them but instead implement self-evaluating performance tools for a feedback loop.
The key is to create a call center quality feedback loop that works by creatively using scorecards.
Use scorecards that don't only focus on customer success. Instead, use call center agent review to incentivize productivity by linking performance metrics to business goals. For example,

use scorecards to discuss soft skills, processes, compliance, and outcomes

.

Reward employees and drive them to work harder with positive feedback, verbal acknowledgment, and monetary compensation. The key is to reward each agent with what they want most.

Promote productivity and improved employee performance with gamification of agent feedback. Combine scorecards with fun activities that provide a context for interpretation.

Ask questions of your agents, including how they're doing day-in and day-out. You can use questions to develop your agents' critical eyes, improve self-assessment, and provide a more hands-on management style.
7. Call Center Agent Training and Learning Tips
To boost call center operational efficiency, you need to create a training program focused on handling complex tasks and decisions. The most successful programs are built around call center quality assurance processes. This framework helps you develop specific objectives and outcomes for each training session based on clear and measurable performance insight.
Unfortunately, only 65% of companies provide practical tools for training. A call center learning management system (LMS) is essential. An LMS will help you train and educate your agents by automating the training process with a centralized software solution designed to manage, track, and achieve your learning goals.
Providing efficient and effective employee onboarding, both formal and informal.

Tracking and scoring QA metrics to see how well your training improves performance.

Improving employee retention through internal development opportunities.

Developing learning content to address performance and efficiency gaps.

Nurturing learning through one-on-one engagement and compelling coursework.

Measuring call center improvement with reports.

Incentivizing and rewarding agent improvements through gamification.
8. Craft a Good Script
A versatile call center script can contain the solution to many customer queries. It allows for faster handling of calls and ensures that information is accurately explained to the customer.
However, it's important to note that customers prefer calls that sound unscripted and personal and solve superior problem-solving skills. There is nothing more frustrating for a customer than calling a company to resolve a problem and feeling that they are not being heard. Sixty-nine percent of customers say they hate it when a call center agent reads from a script.
Customers want more than anything to speak to a customer service agent that is both knowledgeable and friendly. That means your agents need more than just a good script; they also need solid and soft skills and empathy—these are essential tools for an agent to utilize when responding to customers' queries.
So, how do you craft an effective call center script? Follow these 15 best practices, which you can

read more about here

.
Hire suitable call center agents that know when to use a script.
Get to the point quickly and efficiently.
Train agents on how best to use the script.
Make adjustments to your script until it sounds natural when read aloud.
Focus on sounding authentic and conversational.
Make your scripts personal.
Drop the false empathy.
Turn your scripts into knowledge resources
Keep things simple
Don't forget the basics: customer greetings, words to avoid, etc.
Write multiple scenarios and paths into the script.
Go beyond apologies and make the situation right.
Allow for growth and development in your script and agents.
Review the scripts of your competitors.
Track the success of your call center scripts for customer satisfaction.
9. Improve Average Handle Time and Other Key Metrics
For call center performance to improve, it first must be measured. While average handle time (AHT) is one metric that could be lowered to improve contact center efficiency, AHT shouldn't be the sole focus as reducing call quality, and customer experience will hurt the company's overall brand.
Instead, you need a quality assurance process that looks at a critical call center and customer experience metrics. Many KPIs are available on everything from productivity to sales, customer satisfaction, and quality. We recommend breaking it down into three sections:
Business Critical Metrics deal with developing a documented approach to QA and the customer experience, ensuring higher performance and continuous improvement.
Critical Customer Metrics focuses on the customer experience and how well the agent understood the customer's problem and provided a solution.
Process Critical Metrics review what happened after every customer interaction and offer detailed notes in the CRM.
To improve these metrics, capture and share best practices within your call center. Don't just focus on what not to do; highlight what works well.
10. Remote Call Center Efficiency Tips
Remote call center agents face many more challenges than in-office agents. They can feel disconnected, struggle with delayed communication, lack resources, easily get distracted, and feel that there's little trust, accountability, transparency, and feedback.
Create a learning and development strategy and content focused on improving productivity in a remote workplace.

Build trust with your remote agents by communicating regularly, empowering your agents to do their work, engaging regularly, and providing consistent feedback.

Hold one-on-one video calls using Skype, Zoom, or Google Hangouts to create a more personal connection.

Institute remote call center tools to promote efficiency, including remote collaboration tools (Slack, Google Drive), productivity tracking (Status Hero, Toggl), and quality assurance monitoring (Scorebuddy).
The key to a thriving remote call center is to track the success of your agents. You need a tool that can tell you how your agents handle every customer interaction and if their performance is meeting your expectations.
Scorebuddy is a call center monitoring platform that is entirely customizable. You can dig deep, carry out a root-cause analysis, identify training gaps, discover broken processes, reveal common pitfalls, and find the key to agent success. You can also set up as many call center QA forms as you need to evaluate calls, review emails, monitor chat, check social media, etc.
It's a powerful analytics tool that makes it easy to spot trends and expectations within your call center, so you can determine what training is needed to improve operational efficiency.
Call Center Process Improvement
Boosting your call center's operational efficiency isn't an overnight feat. It requires taking a good hard look at the metrics of your contact center and recognizing areas for improvement. By reevaluating your QA framework and gauging where your agents are lacking, you will be able to invest the time and resources needed to improve your call center's processes drastically.