A great customer experience isn't just a consideration; it's a necessity.It's serious business managing the quality of customer interactions in a busy call center, and relying on spreadsheets to manage this process can leave your business open to human error. Simply implementing software to track your customer support tickets is not enough to meet customer expectations. This requires a system that monitors the quality assurance process for every customer, no matter the channel, for customer experience excellence.
Unfortunately, at this time there is no single platform that can handle all of your call center needs; managing your customer service across multiple channels and monitoring the quality of that customer service. That's where software integrations are invaluable, particularly integrating Scorebuddy with Zendesk.
What is Zendesk?
Zendesk is a customer service management platform that helps you connect with customers across channels. Zendesk brings your phone, chat, email, and social media interactions all into one dashboard, allowing you to track, prioritize, and solve customer support tickets quickly and easily.
As an omnichannel support platform, Zendesk helps you create a seamless customer experience. One of their most useful features is the analytics toolkit which can assist your call center in gaining insight into industry benchmarks, customer intelligence, and so much more. It's the top customer service management software on the market today, offering a variety of tools for tracking and responding to customer inquiries.
What Scorebuddy + Zendesk Can Do Together
While Zendesk makes it easier than ever to handle all of your customer support inquiries, what it cannot do is tell call center managers how well their agents are supporting customers. It can't drill down into the customer experience and monitor the quality of each call center interaction.
To improve the overall customer experience, call centers need a solution that offers enhanced functions such as monitoring and scoring agents to see how well they perform. By integrating Zendesk with a solution like Scorebuddy, that drives customer satisfaction, the value for customers using both is invaluable.
Zendesk and Scorebuddy Data Integration
Connected with Scorebuddy, Zendesk can help you improve every customer interaction, which equates to more productive agents and satisfied customers. According to Zendesk, integrated customers gain 5-8 times ROI: saving time, increasing accuracy, and improving their profitability.
The best part is that your Zendesk integration can be easily configured within Scorebuddy. Set up takes just a few minutes, and you can start working within both platforms immediately.
The integration is designed to keep all of your data and evaluations in one easy-to-use dashboard. Zendesk keeps track of your customer support cases and tickets, while Scorebuddy keeps track of your agent scorecards, QA evaluations and reports.
What this means is that you can complete your reviews directly beside the customer support ticket, significantly reducing the amount of time you need to spend on the evaluation process. The integration also makes it possible to synchronize users—attaching cases to QA results—so agents and supervisors can review all information in one convenient place.
Zendesk and Scorebuddy Integration Benefits
Successful call center software integrations have shown improvements in first call resolution and overall call center efficiency. Once you've integrated with Zendesk, there are many valuable features available to you.
1. Quick Evaluation
One of the most beneficial features of the Zendesk integration is the ability to speed up and simplify the QA process by storing your customer interactions and agent evaluations in one location. In this way, you can review exactly how each call, chat, or social media interaction was handled and how satisfied the customer was as a result.
The integration also allows you to create targeted or filtered lists of interactions, which enables you to get a better overview of your overall call center activities. You can assign each interaction on your list for scoring and record the results for improved efficiency and transparency.
2. Intelligent Mapping System
The intelligent mapping system highlights where users have been deleted and/or where new users need to be added in either system. This helps keep your user lists organized by keeping track of case details on an agent-by-agent basis, interaction basis, or case-by-case basis. Ultimately, the integration helps free up your call center supervisors to focus on the most important support tasks—such as coaching—so your team can deliver improved customer service.
3. OmniChannel Support
The Scorebuddy and Zendesk integration allows you to evaluate calls, emails, support tickets, and chat threads all in one consolidated view. Furthermore, you can create evaluation lists by channel, which allows you to see channel specific scorecards. This gives you the ability to compare the overall customer experience per channel to see where improvements can be made across a variety of customer touch-points
4. Analytical Reporting
Combining Zendesk and Scorebuddy's reports makes it easier than ever to identify trends in your customer service, identify pitfalls, discover training gaps, and uncover broken processes. By drilling down into underlying cases, the solution can provide you with even more insight into your customer support interactions, highlighting how agents are performing from a historical perspective. With combined analytics reporting you'll be more prepared to deliver quantifiable improvements on the overall quality of your customer experience.
5. Compliance Alerting
Compliance is especially important for regulated industries but especially of value for everyone in the area of privacy and data handling. If you are recording phone calls through Zendesk, you have the ability to track and alert breaches of compliance through your QA process.
Step-by-Step Integration Flow
Integrating Scorebuddy and Zendesk is incredibly easy and can be completed in just a few simple steps.
Step 1: Open up Zendesk and go to the app market.
Step 2: Install the Scorebuddy app.
Step 3: Link Zendesk to your Scorebuddy account by following the provided instructions.
Step 4: You're ready to start using Zendesk and Scorebuddy together.
You can also integrate from the Scorebuddy side.
Step 1: Go to 'Score'
Step 2: Click on 'Integrations'
Step 3: Enter your 'Subdomain'
Step 4: Enter your 'Username'
Step 5: Enter your 'Token ID'
Step 6: Click 'Submit' and you're done
This is a one-time process that will then be saved in both the Zendesk and Scorebuddy systems.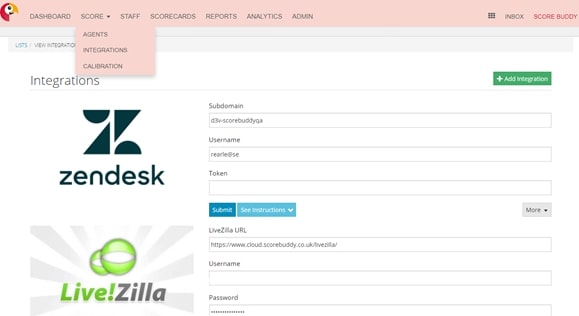 No matter which method you choose, the intuitive interface makes getting started easy. Moreover, you can touch base with the Scorebuddy or Zendesk team about adding access to additional modules such as analytics, agent engagement, and surveys.
Discover customer service excellence with Zendesk and Scorebuddy today. In just a few minutes and with a simple integration, you can begin measuring and improving your customer service delivery in no time. Contact us today to learn more about how to integrate your platforms today.