According to a recent Forrester report, how a customer feels about a product is more important than its effectivenessForrester report. Because customers are generally led by their emotions, 95% of all purchasing decisions are made subconsciously, according to a study by Harvard Business School. And that's why emotional intelligence is essential for leaders in any industry, particularly in customer service.
The Link Between Emotional Intelligence and Customer Satisfaction
In his recent thought leadership series sponsored by New Voice Media, Martin Hill-Wilson defines emotional intelligence and customer satisfaction as the ability to optimize the way a customer feels during and after a contact center interaction.
"As a goal, we want our teams to be able to improve customer outcomes by raising their awareness of the emotional content within interactions and their skill in addressing how a customer feels." - Martin Hill-Wilson.
We know that emotions impact customer purchasing decisions—sometimes positively, other times negatively. When call center managers place emotional intelligence at the center of their customer experience strategy, it results in better customer service and more satisfied customers.
Customers with positive emotions become brand advocates (74%) and loyal customers (64%).

86% of customers with a positive emotional connection with a call center agent would do business with a brand again.

Dissatisfied customers are more likely to complain, switch brands, and talk about their unhappiness.
Take a look at this chart by Bruce Temkin, Founding Managing Partner of the Temkin Group. He maps how both positive and negative emotions impact customer loyalty. For example, when customers feel excited, appreciated, and happy, they "want to do more" business instead of those customers feeling disappointed, frustrated, and angry.
The challenge is figuring out how to measure emotional intelligence in customer service employees.
Can Emotional Intelligence Be Measured?
Emotional intelligence is a soft skill that most employees either have or don't; however, it can be trained with some difficulty and under some circumstances. That's why it's essential to find a way to measure it. And to do that, first, you have to understand emotional intelligence: what is it and how you use it in every customer service interaction.
Every decision, judgment, memory, and interaction is deeply influenced by our emotions, whether you're conscious of them or not. For example, one bad customer service experience on the phone could negatively color a customer's view of phone support for every future interaction.
But what does this mean for call center agents? It means that agents have a responsibility from the outset of every interaction to create positive outcomes by tuning into and understanding what matters to the customer. It's called active listening, and it's essential to emotional intelligence and customer satisfaction.
Active listening is the most basic form of communication skills at its very essence. It serves as the platform to build trust with customers and better understand their situations. If you think about a patient dialoguing with their therapist, active listening can highlight the desire to offer support and be empathetic to the client's needs. Developing this skill can show your ability to understand issues and solve problems with patience.
And while emotional intelligence can look different for every agent, there are six crucial elements.
Anticipating customer requests

Delivering explanations and justifications

Educating customers

Build rapport

Providing emotional support

Offering personal information
Call center agents that begin to have more engaging and emotionally intelligent conversations significantly increase their chances of a successful interaction. These characteristics also create a more collaborative and productive work environment because emotionally stable employees tend to be more satisfied with their work and more sensitive to their coworkers' needs.
So while emotional intelligence may not be easy to measure or quantify since its such a highly subjective concept, it is undoubtedly necessary. And the good news is that emotional intelligence can be assessed and trained.

How to Measure Emotional Intelligence in Customer Service Employees
The most critical thing you need to know about measuring emotional intelligence in customer service employees is where your performance baselines are. These baselines will act as your benchmark against performance and continuous improvement. And they should be tied to direct actions.
Ideally, you would create a benchmark for emotional intelligence at each customer touchpoint. Then, you would monitor and quantify your agent's success at measurably reaching that particular benchmark. The key is to treat each customer interaction as a crucial moment in the customer journey and a way to build equity and lifetime value. Scorecards are a great way to do this.
Scorecards Reveal How Emotional Intelligence Can Affect Self-Management
Scorecards can measure and quantify emotional intelligence by helping you set goals and perform quality assessment monitoring. And by enabling your agents to take charge of their emotional intelligence through self-scoring and self-management, you empower your team to build emotional connections with your customers in authentic ways. After all, according to a recent study, when agents demonstrate personal initiative, it results in the most effective form of customer service.
That's why it's best practice to enable your call center agents to take emotional intelligence into their own hands through self-score interactions and scorecards. It optimizes customer engagement, enhances agent self-awareness, and provides access to more comprehensive cross-functional feedback. By being empowered as part of the solution, agents take on a more active role in their success, improving call center customer experience and the overall satisfaction level of the customer's experience aligned with the unique business goals. Therefore, making them more involved and engaged with the organization, which is also known to reduce staff churn.
Scorebuddy scorecards help you monitor the quality of every customer interaction, which means your agents can determine how well they handled any given customer service situation. When set up correctly, scorecards can help you measure emotional intelligence and customer satisfaction when it comes to:
How well the agent recognized the customer's mood

How well they met the customers' needs

How they changed the customer's perception either positively or negatively
Below are some examples of how scorecards can be designed to focus on emotional intelligence so that you can recognize top performers, leverage-positive onboarding, set up ongoing coaching, and implement better training.
Did the Agent Recognize the Customer's Mood?
In this sample, the scorecard is used to indicate if the agent initially recognized the customer's mood. This should happen at the outset of the interaction to avoid confusion or starting on the wrong foot.
If the mood is positive, the agent needs to remember what words would best describe that mood from the choices given. Then, based on the result of the interaction, the term can be compared to the digital recording to see if it matches what the team lead or manager sees as a positive emotion. In this way, you can determine if the agent can demonstrate empathy.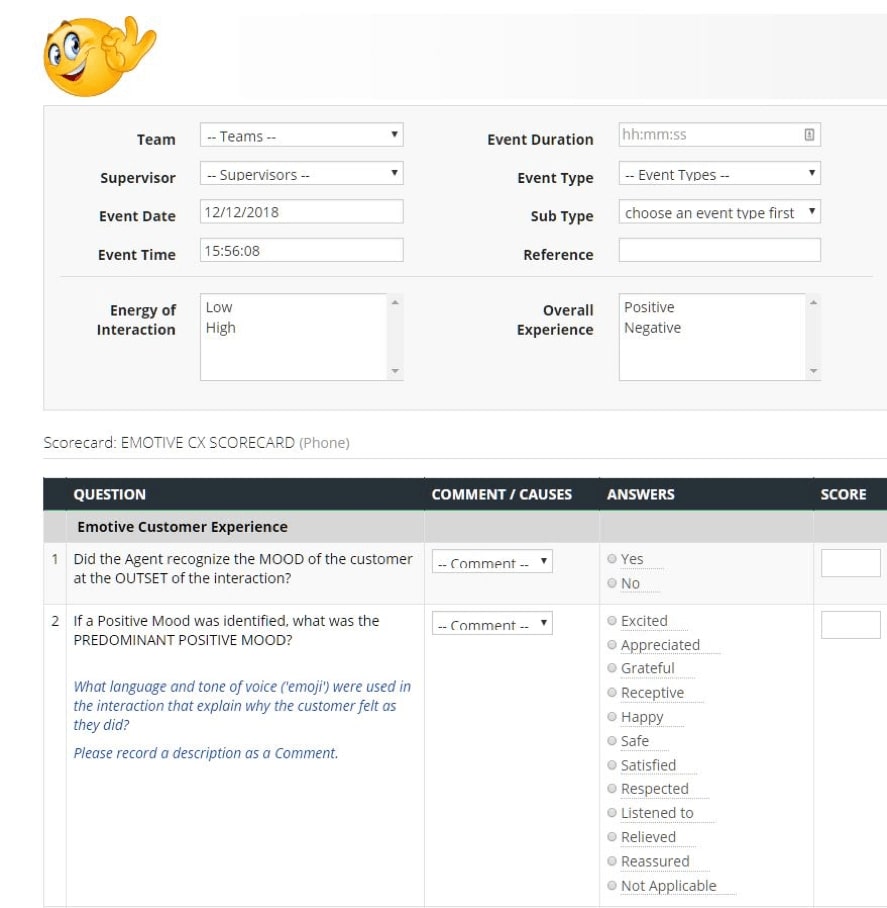 If the agent initially recognized the customer's mood as harmful, another scorecard section will apply. Once again, the agent has to demonstrate their ability to empathize by choosing the right word to match their negative feelings. This is essential because a helpless customer will respond much differently to an employee than one angry or frustrated. Choosing the right word here will change the result of the entire interaction, so it's essential to get it right.

Did the Customer Get What They Wanted?
The following section is intended to determine if the agent could satisfy the customer's needs both functionally and emotionally during the interaction. Giving the customer what they want by the end of the exchange is critical to their journey. The call's outcome should leave the customer with a positive impression of their customer service interaction, and meeting their needs is essential to that end.

How Did the Agent Change the Customer's Perception Either Positively or Negatively?
Finally, the agent should be asked to determine if the interaction changed the overall mood of the customer. Moving the needle of the customer's perspective in a positive direction is the best outcome. However, it's not the only result demonstrating emotional intelligence and customer satisfaction. A frustrated customer that feels respected and listened to, even if they aren't happy, is still a good result.
Feeling Good is Good for Business
Once you've defined the benchmarks that help you measure critical emotions and customer satisfaction and then have a way to analyze those benchmarks (scorecards), all that's left is to drive customer experience improvements based on your insight. Emotional intelligence training is essential for providing positive customer experiences that increase purchases and greater loyalty.
When emotional intelligence is placed at the core of your call center, it can ultimately be responsible for your company's success as a whole. The bottom line is that it's in everyone's best interest to ensure that customers have great experiences.
Looking for More? Read The Roadmap for Success: Improving Agent Soft Skills