Nothing is more important than providing excellent customer service as a contact center. After all, more than half of Americans have scrapped a planned purchase or transaction because of bad service, which results in U.S. companies losing more than $62 billion a year.
It can be challenging for many contact centers to grade their customer service interactions. It would help if you had feedback and insight into how your agents interact with customers every single time. That's why customer service scorecards are a game-changer.
What is a Customer Service Scorecard?
Customer service scorecards are an evaluation system designed to measure contact center performance at every step. They help you gain feedback about where your agents meet the expectations of a quality customer experience. And they also delve into how well your agents follow all the correct processes and compliance standards to achieve the outcomes you want.
Customer service scorecards provide a QA form to tell you how well or how poorly your agents handle every customer service interaction based on customizable criteria. Scorecards make feedback measurable, and concrete to more easily hold your agents accountable and create improvement plans.
Not only are customer service scorecards essential for monitoring overall contact center performance, but they are also necessary for training. They can help you identify trends and learning gaps to reveal skills, areas, and processes that are lacking. This is essential for improvement.
How Do I Build a Customer Service Scorecard?
So, how do you build an effective customer service scorecard? First, you have to establish your goals and objectives and align those with your cit would help if you created when; you need to create a grading rubric for your agents to use as a guide.
This might not be a quick process, but it's also not as difficult as you think. The key is to use software for your customer service scorecard, instead of a spreadsheet.
While spreadsheets are cheap and easy to use as scorecard templates, they entirely completely manual; plus, there's no protection from human error. Spreadsheets are practical for static and simple formulas, but complex data, forecasting, and monitoring are impossible.
On the other hand, software that makes it easy to build a customer service scorecard is far more efficient, accurate, and usable. The software can help you improve productivity and quality in customer service monitoring, and it provides a far more in-depth review. After all, to be helpful, a scorecard must be relevant, organized, and timely, and that requires a system that can ask dynamic questions and be adjusted as needed.
To serve your customers and call center better, you need a powerful customer service scorecard tool to streamline the QA process. It should make it easy to gather a high volume of data and categorize it.
Scorebuddy's digital scorecards—which we'll talk more about at the end of this blog—are a great place to start collecting, analyzing, reporting, and making decisions on customer service data. And the good news is that Scorebuddy's customer service scorecards are 100% customizable to your needs and the elements you find most essential to success.
What to Include on my Customer Service Scorecard
The question is, "What should you include on your customer service scorecard?" While it's up to your business priorities and customer service needs, some key elements should always be included.
There are ten critical areas to monitor on your customer service scorecard.
Soft Skills
Processes
Product Competencies
Channel
Type of Customer Service Inquiry
Compliance
Customer Experience
Outcomes
KPIs
Training
1. Soft Skills
Your agents' soft skills are a critical predictor of customer experience. Without theright skills, your agents won't be able to deliver customer support successfully. You need to test your agents' ability to:
communicate well,

be professional,

learn,

be flexible,

gain customer trust,

work in a structured environment,

solve problems,

demonstrate emotional intelligence.
A few questions you should include on your customer service scorecard for soft skills are:
Did the agent display active listening skills?
Did the agent build rapport and showed an understanding of the client?
Was the agent's tone and pitch appropriate to the mood of the call?
Did the agent summarize the follow-up plan?
Was the agent professional at all times?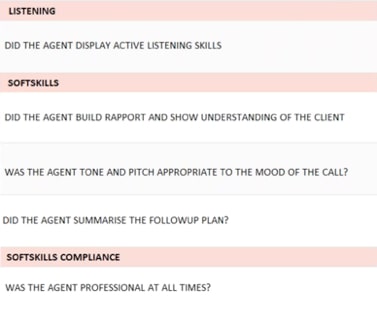 Then, based on your soft skills monitoring results, you need to implement soft skills training. This training should be specific, measurable, attainable, relevant, time-based, and delivered via blended learning. Follow these six steps for soft skills training for more information.
2. Processes
There are many internal processes that your contact center agents must follow for effective customer service. These processes ensure efficient handling of customer service inquiries and ensure that your agents know the procedures they need to follow for successful outcomes. Your agents must understand and follow all of your internal processes.
Some process questions to include on your customer service scorecards include:
Did the agent follow the correct process?
Did the agent follow the compensation process?
Did the agent handle the interaction promptly?
If there was an escalation, did the agent follow the correct processes?
Did the agent terminate the call correctly?
Did the agent update the notes in the CRM case?

3. Product Competencies
High-quality customer service requires a deep and broad understanding of your company's products/services. Your contact center agents must be ready and able to handle any customer questions and concerns regarding your products. The key is to manage customer expectations regarding their ability to fix product issues and ensure the correct problem is addressed effectively.
There are a few product competency questions to include:
Did the agent correctly identify the root of the product issue through a full investigation?

How effectively did the agent troubleshoot the product issue using proper resources?

Did the agent provide relevant and accurate information about the product?

Did the agent offer the correct product resolution?

4. Channel
Your agents need to be able to grade their customer service interactions—no matter how the customer contacts your call center. If you offer omnichannel customer support, you need scorecards unique to each channel—phone, chat, email, etc.
Phone Criteria
A customer service scorecard for phone calls should rate your agent's ability to demonstrate confidence and enthusiasm while following predetermined procedures. In particular, the scorecard should at least cover the seven most essential elements of every call:
Tone of voice

Careful listening and understanding

Speaking at an average speed

Using the right language

Questioning effectively

Building rapport

Closing/Opening the call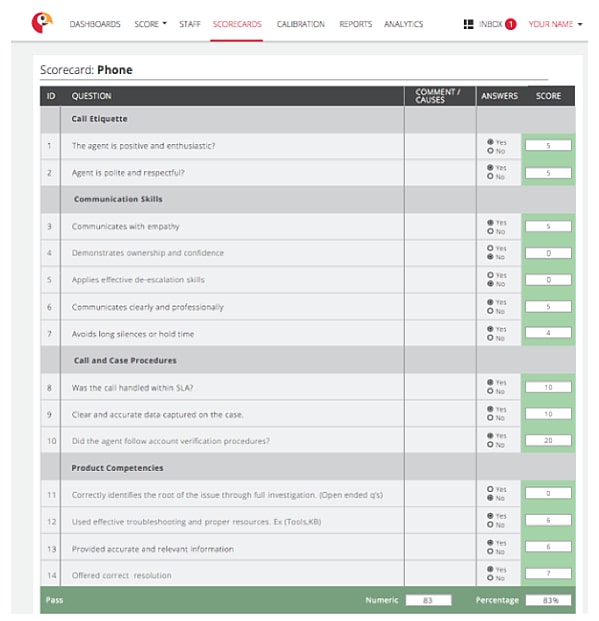 Chat Criteria
Chat is another popular customer service support channel. And it does require different agent monitoring than a phone call. Effective that focuses more intensely on quick responses, proper grammar, immediate remediation, and following proceduresg. A few key elements to include on your chat scorecard are:
How promptly did the agent greet the customer?

Did the agent provide accurate information concisely and effectively?

Did the agent use an appropriate greeting and closing?

Did the agent use correct spelling, punctuation, and grammar?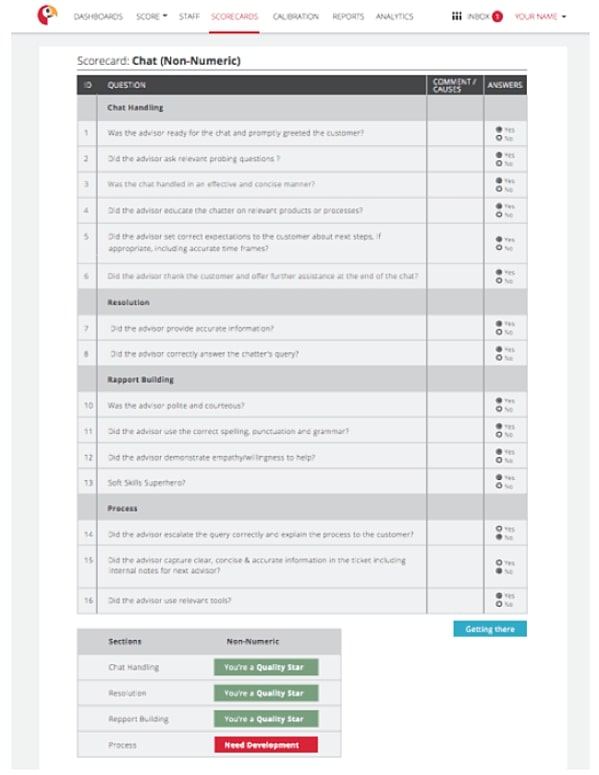 Email Criteria
Your agents that respond via email must also be evaluated using a different set of customer service scorecard criteria. In email responses, tone of voice, using the customer's name, proper grammar, and detailed information is critical. You need to ensure that their written customer service response is adequate, uses your knowledge base, and meets the customer's needs.
Email-focused questions to include:
Was the agent positive and friendly?

Did the agent use the customer's name in their salutation?

Did the agent link to relevant knowledge database pages for more information?

Was the information in the email presented clearly and accurately?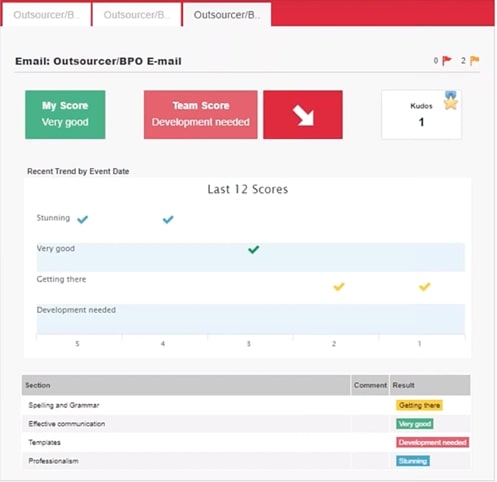 5. Type of Customer Service Inquiry
Not all customer service inquiries are the same, and understanding the type of inquiry is critical to identifying areas of success and improvement. On your scorecard, provide a section where you can segment and categorize each type of request.
First, define your customer service categories:
Marketing

Sales

Development

IT Department

Online Store

Unassigned

Individual Assignment
Then, describe what tier of ticket it was:
Tier 1: Common customer service issue that any agent can answer.

Tier 2: Slightly difficult customer service inquiry requiring experience and knowledge for a successful outcome.

Tier 3: Difficult technical support issue that requires a specialist or manager.
With this information, you can more effectively grade how well the agent dealt with the customer and achievedg the desired outcome. This information will also explain any transferring, escalations, or poor performance in KPIs.
6. Compliance
Contact centers have to follow strict guidelines and standards for customer service. All organizations need to be concerned with regulatory compliance, security, and consent. And this is especially true for highly regulated industries such as financial services and healthcare.
Your customer service scorecard needs to keep track of how well your call center agents remain compliant with Payment Card Industry (PCI), standards, GDPR rules, and beyond. Your scorecard should allow you to keep an eye on:
Breach Alerts: When a compliance question is missed and why/how.

Pass/Fail Rates: Pass/fail questions about compliance so thatkeep an audit trail.

Compliance Failure Details: Why and when compliance fails, so you can take remedial action.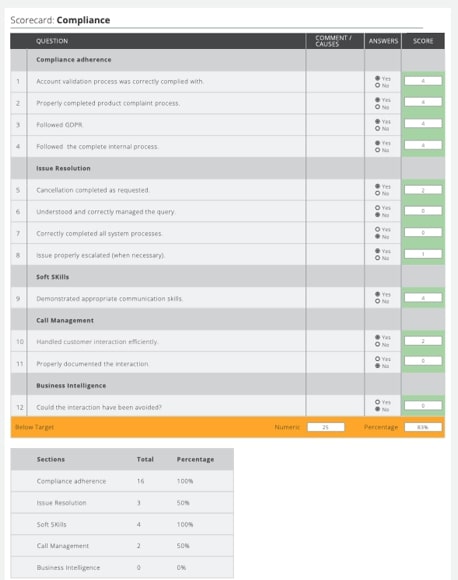 7. Outcomes
The ultimate goal of your customer service scorecards should be to help you figure out if you're meeting your goals—internally and externally. You need to know if all of the soft skills your agents demonstrate, the processes, channels, categorizing, and compliance monitoring result in the outcomes you want and need. That's why you should include outcomes questions on your scorecard, such as:
How well did the agent meet their "greeting" goals?
How many "soft skills" did the agent successfully demonstrate?
Did the agent correctly demonstrate their "problem-solving abilities?"
How well did the agent follow all of your processes?
Was the agent fully compliant with company policies?
Did the agent follow up with the customer at the end?
Outcomes take your scorecard beyond just a number to offer your call center tremendous value. It helps you see if your criteriasuccessfully provide a great customer experience, increase revenue, alleviate stress, and meet regulatory and process standards.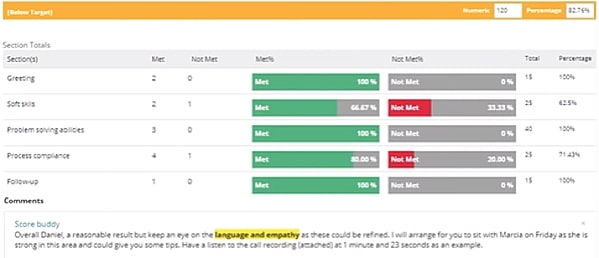 8. Customer Experience
At the end of the day, a customer service scorecard must be able to tell you how satisfied your customers are with your performance. Like NPS and Customer Satisfaction surveys, your scorecard should help your agents put themselves in custom customers and predict how happy they are with the customer experience. It's about proactively managing the customer experience.
The good news is that customer experience typically falls into five categories: time, performance, service, quality, and cost. And you can measure most of this using your customer service scorecard.
Time: How quickly did the agent attend to the customer? How long did the agent spend speaking to the customer to solve their problem?

Performance: Did the customer appear satisfied with the value provided by the agent at the end of the interaction?

Service: Did the agent provide accurate and on-time service that met expectations?

Quality: Was there a defect measured or perceived by the customer at the beginning of the interaction? By the end of the interaction?

Cost: Did the customer express issues or concerns with the cost of the product, the cost of their time, or the cost of the solution offered?
9. KPIs
Key performance indicators (KPIs) are invaluable tools for gathering and assessing data about the effectiveness of your call center, your agents, and your customer service. These metrics provide feedback on everything that happens within your contact center to know precisely when it is performing in everything from sales to productivity, customer satisfaction, and quality.
There are a wide range of customer service-focused metrics that you can include on your scorecard. Here's a shortlist of customer-critical KPIs:
Average Time in Queue: This indicates how well agents are serving your customers and if it is a promptly
Average Abandonment Rate: This tells you how often a caller or live chatter gives up on connecting with your team.
Average Handle Time: This directly relates to customer satisfaction and will indicate how well your agents resolve issues.
First Call Resolution: This represents how many calls, chats, emails, or social media messages it takes to solve a customer's concern.
Average Speed of Answering (ASA): This measures how quickly the call center took to answer a call.
CSAT: Customer satisfaction tracks how satisfied your customers are with your organization and your service.
Net Promoter Score (NPS):

NPS measures customer loyalty

and the strength of your relationships with your customers by tracking how likely a customer is to refer you to a colleague.


10. Training
Lastly, there's no reason you can't use your customer service scorecards to track call center training. After all, high-quality training is how your agents improve their performance, close knowledge gaps, increase their soft skills, and overall the customer experience.
Using your scorecard to monitor training, you can more easily manage, track, and achieve your learning goals. You can ask for feedback, such as:
Did you find the training fun and engaging?

Have the company's mentorship opportunities helped you reach your professional goals?

Has soft skills training helped you be more effective during customer interactions?

Are you feeling more confident in the skills and knowledge you need to do your job?

Do the training courses available match your needs—strengths and weaknesses?

Are you provided enough time for regular training?
Then, based on this feedback, make changes to your call center training program or sign up for a Learning Management System (LMS) like Scorebuddy's new contact center LMS portal.
How to use a Customer Service Scorecard to Track Call Center KPIs
Once you've created your customer service scorecard, how do you use it in the contact center to achieve positive results in your customer service interactions? It's all about implementing a customer service workflow and software to keep you on track.
Scorebuddy's scorecard system is essential for QA scoring and customer service management. It is completely customizable, so you can capture the performance data that is most important to a quality customer experience. You can then take the analytics and insights provided by Scorebuddy's scorecards to take action and radically improve your quality of service in real-time.
By arming your contact center with customer service scorecards that uncover patterns, highlight trends, and identify strengths and weaknesses, you can make better decisions based on real insight. This helps you service your customers better and provides them with an experience that exceeds their expectations. It also enables you to improve your contact center processes, meets regulatory standards, fill in training gaps, and develop more effective employees.
With Scorebuddy, your customers will have the best experience possible every time they interact with you. Get started with a customized tour of Scorebuddy today.