The value of big data lies in how you analyze it. Gathering and analyzing structured and unstructured data is important to operating your call center at peak performance. The key to employing analytics lies in understanding the data that is available, and how that data can be used to improve your call center operation.
It's critical that your multi-channel contact center only mines the data that matters for identifying patterns and trends. You will need call center analytics tools and processes in place to analyze that data for business intelligence purposes and to reveal agent performance and customer insights.
Gather call center data in a different way; one that's 100% focused on driving value and providing a robust and accurate picture of your performance. To get started, you need to be able to answer four questions:
What is call center data?
How is data captured?
What about QA data?
How can you use data to improve call center outcomes?
What is Call Center Data?
If you want your call center to perform optimally in today's competitive market, you need to build a solid reputation, which means you must provide consistent, high-quality customer service. To know if and how you're succeeding requires call center data and analytics.
Data and analytics can help your call center monitor and improve its service in everything from wait times to employee performance, customer experience and satisfaction, and overall efficiency. It gives you a comprehensive and precise picture of your call center's performance with the goal being to ensure that your call center operates at its peak.
However, that's only possible if you gather the right call center metrics.
Essential Call Center Metrics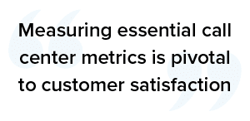 Measuring essential call center metrics is pivotal to customer satisfaction, call center efficiency, and agent effectiveness. After all, you can only analyze things that you can measure.
In busy multi-channel contact centers, supervisors and team leaders can get overwhelmed monitoring, tracking, and scoring performance. There's such a broad range of metrics and key performance indicators to choose from that it can be difficult to know where to start.
The following KPIs should be at the core of your call center, setting you up for continuous improvement and success.
Average Time in Queue: This provides an accurate indication of how well agents are serving your customers and can be used for more than just calls. Average wait time is also an effective metric for live chat and social media comments. It can even be transformed into response time for emails.
Average Abandonment Rate: This represents a detriment to the call center and tells you how often a caller or live chatter gives up on connecting with your team.
Average Handle Time: This directly relates to customer satisfaction and will indicate who well your agents resolve issues.
First Contact Resolution: This is potentially the most important KPI in your call center and represents a significant element of customer satisfaction. How many calls, chats, emails, or social media messages did it take to solve the customer's concern?
Agent Absenteeism: Call center productivity can be majorly impacted by agents not being at their desks. The goal should be to identify root causes and promote positive behavior.
Agent Turnover Rate: This critical metric helps you identify agent challenges and gaps in training that can be better managed.
CSAT: Customer satisfaction is a KPI used to track how satisfied your customers are with your organization and your service. This metric can be gathered via surveys and other analytics tools.
Schedule Adherence: How well your agents adhere to their schedule as a metric of productivity and how well your agents are performing.
Contact Quality Management Score: This measures how well your agents help customers based on their skills. It measures product knowledge, technical knowledge, communication skills, and problem-solving skills.
So, how do you start measuring these essential call center metrics? You need tools that help you sift through the mountains of data you'll gather to make real-time decisions. That's where call center analytics tools come in.
How to Capture Relevant Call Center Data to Perform Analytics
There are different ways to leverage call center data and perform data analytics. It depends on the types of tools you employ to gather the information you need. There are a variety of approaches you can take to capture your call center data. Each offers its own advantages, satisfying a specific aspect of your call center. It's how you use them that can have the most significant impact on your call center.
Below are a few of the most popular approaches for analyzing call center data.
1. Speech Analytics
This approach can help you monitor calls in real-time, using algorithms to analyze tone and sentiment and to gauge customer emotion and satisfaction. It can help you gather data on agent skills and performance, call type, knowledge gaps, and the overall customer experience.
2. Text Analytics
If you communicate with your customers through live chat, social media, email, or another text-centered media, text analytics is essential. It can help you analyze written communication in the same way speech analytics measures calls.
3. Cross Channel Analytics
Customers don't contact you through one channel any longer. They interact in a variety of ways, and cross channel analytics helps ensure that data flows between all of the channels to optimize the customer experience. It can help update scripts in real-time, alert agents to potential problems, and more.
4. Predictive Analytics
This approach can be used to focus on identifying the most effective way to communicate with customers. It can predict customer behaviors and identify trends, so you can act on all of it proactively. Predictive analytics is used to improve agent effectiveness and enhance customer experience.
5. Performance Analytics
Agents and managers need dashboards that contain real-time and historical data about each agent's performance. This type of analytics should capture information on inefficiencies, training opportunities, handle time, and more.
What about quality assurance? How does it fit in your call center data? It's crucial for providing you with an effective and consistent way to determine customer satisfaction, either from your agent's or customer's perspective—both are invaluable.
The trouble is that many call centers measure QA through random compliance checks and manual processes, but that doesn't have to be the case.
How is Quality Measured in a Call Center and What Data can be used to Drive Decisions?
The critical factor in call center quality assurance is your team—the human element. Your multi-channel agents are directly connected to and responsible for customer experience. The problem is figuring out how to track, train, and develop your team, and that's where scorecards come into play.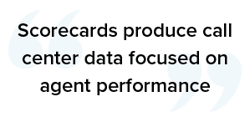 Scorecards produce call center data focused on agent performance. Scorecards provide you with the metrics and data required to understand and analyze your agents' performance, which helps you determine what changes you can implement to make significant improvement. When your agents are confident and well trained to respond to customers positively, your call center will achieve far better performance more consistently.
Scorecards help you track the key performance indicators most essential to producing successful call center agents. They empower your leaders to evaluate customer experience by giving them the tools necessary to monitor and manage productivity, so you can amaze your clients and customers.
How Scorebuddy Helps you Measure Call Center QA
Scorebuddy is a standalone scorecard system for call center QA scoring and data management. Scorebuddy is far better than a spreadsheet. It goes beyond merely capturing performance data; it provides a framework for QA management, along with a dashboard and analytics that help you to take actions on these insights.
The benefit of Scorebuddy is that it reduces your reliance on manual data management. You can accelerate the scoring process and easily collaborate with agents, so you can radically improve your quality of service in near real-time. As a result, your customers will have the best experience possible every time they interact with you.
How Can You Improve Call Center Performance Using Quality (QA) Data?
Defining your call center's optimum performance and nurturing engagement amongst your agents are the quickest ways to increase your ROI and deliver excellent customer service.
Unfortunately, many call centers spend so much time gathering QA data and putting out fires that they don't have the opportunity to look at how they can use call center data to improve quality. But by getting to the root cause of your dilemma and pinpointing the areas where your agents need further training, you can shorten the time for QA improvement and ultimately create a better customer experience.
1. Gap Analysis in the Call Center
Root cause analysis helps you solve problems in your call center by addressing the source of the problem. It's not about quick fixes that only work for a short period. It's about determining where and how the problem started so you can make continuous improvement.
There are three types of root causes:
Human behavior where expectations were not met.
Physical malfunctions in equipment, software or other material sources.
Organizational breakdowns in processes or policies that hinder employees from doing their work.
When you take the time to examine these causes through gap analysis, you can identify patterns, system flaws, and other factors that are blocking your growth. From here, you can find where training initiatives should be implemented, discover agent vulnerabilities, and improve customer experience long term.
2. Apply Lessons from Performance Measurement
With scorecard metrics from Scorebuddy, you have precise feedback that you can use to make changes in the call center. You can find solutions that work best to improve your QA outcomes and apply lessons that deliver the greatest return on investment.
With call center QA data, you can determine and benchmark the performance levels of your agents today versus where you need them to be. From there you can help your employees reach their goals with coaching, training, and by rewarding top performers. When you use call center data to deliver training, you give agents more confidence in their jobs, which results in happier and more productive agents.
3. Put Your Agents at the Center of Quality
Accurate, real-time QA data puts your agents at the center of quality in all their interactions with customers. By providing feedback in real-time through live analytics visualizations, your agents and managers can see how to do their best work, which helps you deploy agents appropriately, apply their talents most effectively, and track their growth transparently.
When analyzing QA data, be sure to prioritize information that focuses on agent strengths and weaknesses, which helps you fill in any training gaps. It also allows you to collaborate with your agents and help them better understand how their performance affects all call center objectives.
By putting your agents first, you create happier employees, which has numerous benefits. Not only do satisfied employees tend to stay with their current job, reducing call center turnover costs and reducing your need for recruiting and training new candidates, but they also provide better service. It's a win-win for everyone.
Final Thoughts
Call center data is essential for helping you identify strengths, weaknesses, and holes in your call center operation. By arming your team with the right data, analytics, and QA intelligence, you can uncover patterns, highlight trends, and make more educated business decisions based on real-time insight.
In the end, this helps you service your customer better and provide them with an experience that exceeds their expectations. It also helps you improve your call center processes, fill in training gaps, and develop happy and effective employees. As a result, your customer will be more satisfied, and your call center will be more productive.
Discover how Scorebuddy can help you remove any call center data QA constraints you might be facing and open up new levels of insight that benefit all stakeholders. Get started with a customized tour of Scorebuddy today.