Projections suggest that the global cloud-based contact center market will grow to $54.7 billion by 2027. While a major overhaul of your call center infrastructure to implement cloud-based tech may be daunting, it's important to understand the pros and cons.
Let's explore how cloud-based contact centers work, what the main tools are, and how these solutions can enhance your processes, streamline operations, and improve customer experience.
What Are Cloud Solutions and How Do They Work?
Cloud solutions allow users to access IT services like software, applications, storage, and more over the internet rather than using a local server. Essentially, it's the IT equivalent of renting instead of buying.

The service is hosted by a vendor and accessed virtually without the need to purchase hardware or carry out installation and ongoing maintenance. Typically, these services are flexible, so buyers only pay for what they use.

There are different cloud-based setups, including public, private, and hybrid, requiring different levels of customer input and security:
Public: Multiple end users share a public cloud, with all physical equipment located at the vendor's premises and accessed via the internet.
Private: The most secure option, a private cloud, is used by one organization only and may be hosted on that organization's own servers.
Hybrid: Combining public and private clouds, this model allows customers to host some applications on their servers and others at the vendor's location.
What Are the Benefits of Using a Cloud-Based Solution for Your Call Center?
For call centers, cloud-based solutions offer flexible access to tools that can improve performance, reduce costs, and enhance customer experience. You can quickly implement emerging technologies to keep pace with competitors and expand your global reach.

Additionally, the flexibility and easy setup of these tools can help support the increased employee demand for remote and hybrid working models.

Let's look at the top benefits of cloud-based contact center solutions.
Cost Savings
The online nature of cloud technology removes many of the expenses associated with implementing new call center tools. Without the need for new physical equipment, you can simplify the installation process and significantly reduce your upfront costs.

Cloud-based systems often use subscription-based pricing with customizable offerings, so you only need to pay for the features you actually need. This means a lower monthly cost per user without sacrificing any of the tools you need to run your call center.

The cloud model also helps users save on maintenance, as the responsibility lies with the vendor. Your software will remain up-to-date without any additional expenditure or labor on your behalf.

If it fits your business goals, you can even downsize your contact center facility, saving on overheads like rent and utilities.
Easy Setup
With no new infrastructure or hardware involved, the setup for a cloud-based solution is not only cheaper, it's quicker and easier too. The software is ready to go out of the box and can usually be implemented alongside your existing tools.

Considering that you can pick and choose what features you want, no time is wasted on training agents to use services they'll never need.

Most cloud solutions come with built-in tutorials, guides, and learning pathways so agents can quickly get up to speed and continue with their tasks with minimal disruption.
Flexibility
The flexibility of the cloud model is one of its biggest draws. As long as you have an internet connection, you can access a full suite of contact center tools, no matter where you are or what time it is.

With 85 percent of customer service agents keen to work from home on a full-time basis, the ability to offer this remote connectivity is invaluable.

If your call center operates in the cloud, you can access a larger talent pool and recruit staff regardless of their physical location. This can open up opportunities to add fresh expertise to your team and even expand your operation to different regions by adding new languages.
Scalability
With a cloud-based solution, you can easily scale your contact center operations up or down as business objectives and staffing requirements change without resetting your entire infrastructure.

Adding and removing users is easier as no new physical equipment is needed. Even if you need to scale up rapidly, you don't have to overwhelm your IT department with requests.

Without the per-agent, per-month fees of a traditional system, you can add new users and meet demand without significant financial outlay. Furthermore, the vendor is responsible for maintenance so they can handle any growing pains associated with adding users.
Integrations
Cloud-based systems are designed to support seamless integrations—a key feature of modern contact centers. This allows for a more holistic approach to CX, where you have a complete overview of customer needs and the ability to meet them swiftly.

Cloud solutions use customizable application programming interfaces (APIs)—software enabling communication between computer programs—so you can set up integrations quickly and add new software to your existing contact center infrastructure. This includes third-party tools like CRM software, call center live chat, social media connectors, and more.

The end result is a streamlined working environment where employees can access multiple data sources on one platform, leading to stronger agent performance, quicker resolution times, and more data-driven decision-making.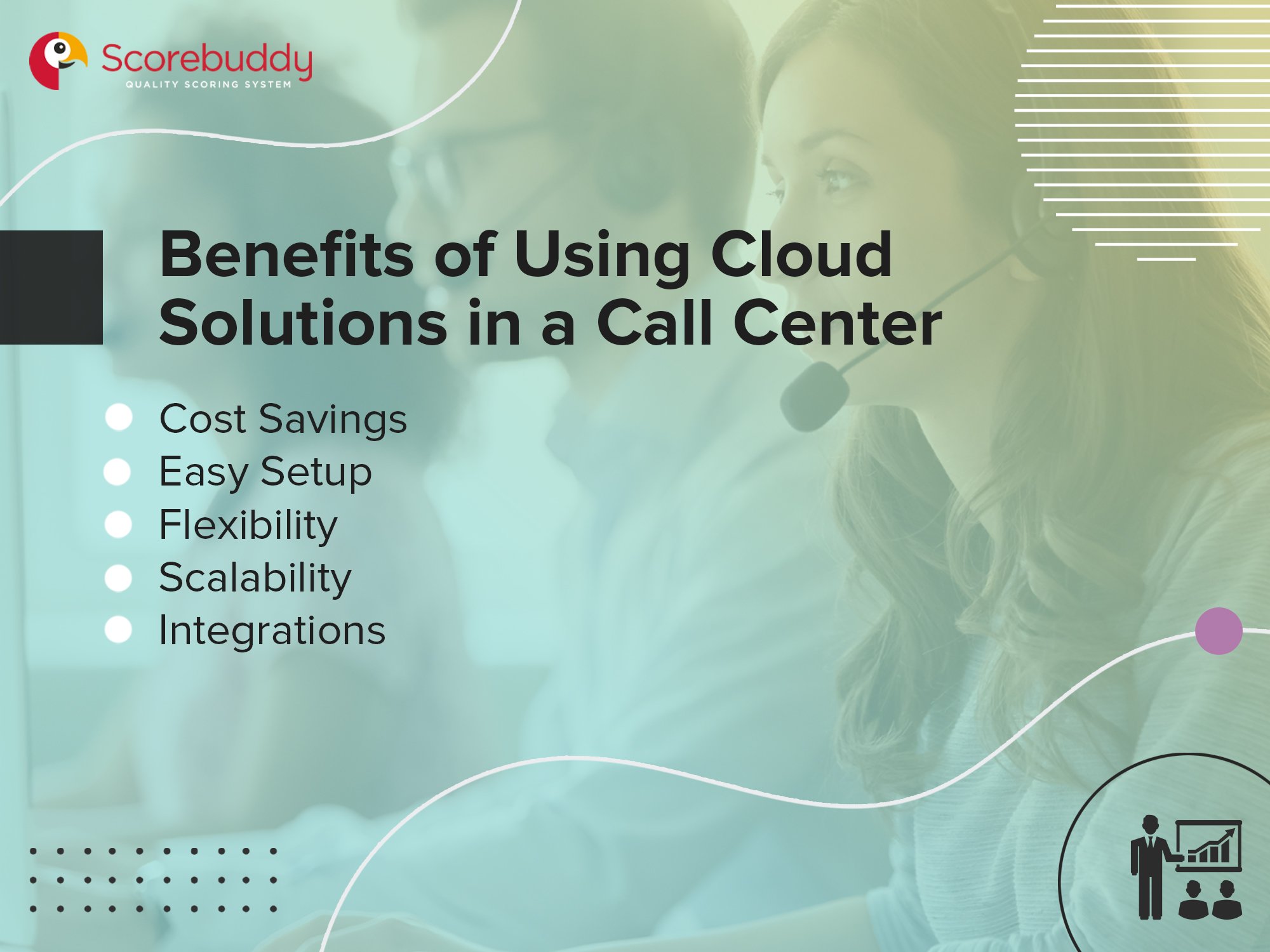 What Are the Main Cloud Solutions to Streamline Your Call Center Operations?
Cloud-based contact center solutions offer a number of advantages over more traditional systems. Putting the right technology in place can lead to increased productivity, better customer service, and improved operational efficiency. Let's look at some of the most popular call center cloud solutions.
Call Auto-Routing
Tools like automatic call distributors (ACDs) manage inbound calls by directing them to agents based on predefined criteria. It's about connecting customers to the right agents at the right time to minimize queuing and improve key metrics like first call resolution.

You set the rules for the ACD based on different parameters like priority, availability, or agent attributes and let the technology handle the routing process following your logic. This way, you can be sure that your routing is aligned with your organization's aims.
Interactive Voice Response (IVR)
Interactive voice response (IVR) is another tool that can streamline your inbound call process. It can ease the workload for agents while also helping customers resolve their issues with minimal effort. Popular IVR providers include Five9 and Aircall.

When a customer calls, the IVR uses pre-recorded messages to help them connect to the most appropriate agent or, if possible, resolve the problem using a self-service option. IVR can also handle tasks like bill payments or subscription renewals without agent involvement.
Computer Telephony Integration (CTI)
Computer telephony integration (CTI) is essential for any modern contact center. Using CTI, you can connect your computer and phone system, removing the need for an actual phone. Instead, agents manage all call functions on one screen.

Aside from call functionality, the integration allows agents to view customer details like past interaction data and contact information. By using CTI, you can significantly streamline workflows and boost KPIs like average handling time.
Call Recording
The majority of contact centers use call recording functionality to support their operations. These tools can record both incoming and outgoing calls, as well as text interactions like live chat and SMS.

Call recording is a key step in the QA process, allowing you to review interactions to ensure high CX standards. Not only can you identify potential performance issues by reviewing calls, but you can also use the recordings as examples during training.
Virtual Agents and Chatbots
The rapid advancement of artificial intelligence and natural language processing has led to increased usage of tools like chatbots and virtual agents to support employees and keep customers happy. Popular vendors include HubSpot and Intercom.

Depending on their level of sophistication, these tools can handle simple tasks like scheduling meetings and callbacks or even understand the intent and deliver personalized responses without human input, freeing up agents to focus on more complex queries.
Customer Relationship Management (CRM) Integration
Customers hate repeating themselves. In fact, a recent report found that 61 percent of customers selected "having to repeat myself to multiple agents" as the main reason behind a frustrating service experience.

With a CRM integration, you can give agents access to customer information from every source, including details of past interactions with the company. This way, agents can reference CRM data to provide the best possible service and avoid frustrating customers.
Workforce Management (WFM) Tools
All businesses can benefit from effective workforce management, but call centers, in particular, can see a significant ROI from a WFM tool. With varying customer demand at different times and tricky scheduling, optimizing processes is key.

Cloud-based workforce management tools help ensure that your contact center is never short on staff. At the same time, WFM encourages agent input into the scheduling process, so you can improve efficiency while boosting morale. Major WFM providers include Verint and Calabrio.
Quality Assurance and Monitoring
With 72 percent of consumers willing to pay more to a brand that offers exceptional CX, implementing a robust quality assurance system can go a long way to boosting your organization's bottom line.

An effective QA tool includes tools like custom scorecards and in-depth reports, so you can identify areas for improvement, deliver targeted training based on these insights, and then monitor its impact on KPIs like CSAT, NPS, and customer effort scores.
Omnichannel Support
71 percent of customers expect personalization in their service interactions. The flexibility of cloud solutions makes it easier to add new channels and sync data between them, offering your customers omnichannel support.

Integrations with CRM systems, QA tools, and more allow agents to build a central hub for all customer data. This way, you can always deliver a personalized customer experience, no matter what channel you're using.
Real-Time Analytics and Reporting
Contact centers take in a lot of data from agent-customer interactions. With effective analytics and reporting tools, you can use this data to train agents, improve your customer experience, and optimize workflows.

By keeping everything in one place with a cloud solution, you can collate all of your data to get the most accurate insights and, if you use AI, accelerate the analytics process by nearly 400 percent, ensuring quicker corrective actions.
Cloud Data Storage and Encryption
You're likely familiar with cloud storage tools like Google Drive, Dropbox, and iCloud, and their associated benefits. Their key benefits—accessibility, security, and savings—also apply in the contact center industry.

Cloud storage is available at any time, regardless of location, with ongoing maintenance and updates from the vendor ensuring the latest security protocols are in place. There's also no need to pay for maintenance, physical equipment, or additional IT resources.
What Are the Risks Associated With Call Center Cloud Solutions, and How Can You Mitigate Them?
From savings to scalability, there are significant benefits to cloud-based contact center solutions. However, it's important to mention that there are some risks associated with this model, too. Thankfully, there are ways to mitigate them.
Security Risks
With IBM reporting that 83 percent of companies will face a data breach at some point, security is a major concern for contact center leaders. While reputable cloud providers will prioritize security, there are, of course, risks to consider.

Entrusting your data to a third-party vendor carries risk, as a breach would be damaging to both their reputation and yours. You must ensure that your cloud provider follows a multilayer security approach, with strict access measures, encryption on both ends, and regular testing.
Reliance on Internet Connection
Cloud-based contact centers rely heavily on the stability of their internet connection. Outages and performance issues can slow down, or even halt, operations, leading to angry customers and lost revenue.

Of course, cloud providers have accounted for this risk, investing heavily in redundancy to ensure that backups are available in the event of a connection failure. Additionally, you can reroute incoming calls to cell phones and send automated messaging to customers.
Reduced Control
A perceived lack of control can be a sticking point when making the switch from traditional to cloud-based call center systems. Leaders may fear losing the ability to customize their solutions, while IT staff could be concerned about job security.

Thankfully, modern cloud solutions allay these fears. Most models offer a mix-and-match approach, where you can customize your subscription, and outsourcing mundane maintenance tasks will free up your IT team to focus on more rewarding work.
Chance of Hidden Costs
Some call center leaders may have concerns about potential hidden costs within the subscription, for example, a fee for adding extra agents or even a penalty for insufficient usage.

As you would with any business purchase, ensure you're clear about pricing, the specifics of your plan, and the associated costs before committing to anything. Your assigned advisor should be able to talk you through your contact in detail and answer any questions.
Potential Compliance Concerns
We've addressed the potential security risks of a cloud-based contact center, but there are also concerns around compliance. Given the customer-centric, data-heavy nature of a contact center operation, maintaining regulatory compliance is vital.

With human error responsible for 82 percent of data breaches, you must ensure that your cloud solution includes risk mitigation tools. An effective cloud QA platform, for example, will offer an audit trail, real-time breach alerts, and custom scorecards focused on compliance.
Conclusion
Cloud solutions are a major feature of the contact center industry. From auto-routing and interactive voice response to integrations with CRM and workforce management tools, call center leaders are increasingly turning to the cloud to streamline operations.

With the pandemic accelerating the transition to remote and hybrid working, the core benefits of cloud-based services—flexibility, scalability, savings—are more apparent than ever, and vendors are upping their offerings to meet newfound demand.

Scorebuddy offers a cloud-based solution for quality assurance and monitoring, with customizable scorecards, real-time analytics and reporting tools, and a fully integrated learning management system.

See how Scorebuddy can streamline your call center operations—request your free 14-day trial now.