Contact center staff are feeling the pressure. 90 percent of service leaders believe that customer expectations are higher than ever before, and it's up to the agents to not only meet but exceed these growing expectations.
To do so, contact center agents need to be multi-skilled, capable of carrying out complex, varied tasks, and always ready to find the right answers. How can you equip them to achieve all this? By developing a smarter approach to call center coaching.
By integrating coaching and quality assurance, you can develop a deeper understanding of what makes agents tick and build a team capable of delivering exceptional customer service on a consistent basis—no matter what the customer demands.
What Is Call Center Coaching, and Why Is It Important?
Call center coaching is an aspect of the QA process that managers and supervisors use to pinpoint areas for improvement in order to help agents grow and develop their skills. It's also a way to identify instances of excellent service to use as examples.
While performance reviews are primarily concerned with evaluating the agent, coaching is more actionable. It's about delivering feedback and offering practical steps for the agent to correct any mistakes and build on their strengths.
Ultimately, the aim of call center coaching is to provide the best possible customer experience by means of enhanced agent performance. A contact center's success hinges on its agents, and coaching is the best way to get them to perform at their peak.
Effective coaching can establish a consistent standard of quality service across your organization, improve agent efficiency when it comes to KPIs like average handle time and first call resolution, and reduce churn by boosting agent engagement.
What Is Integrated Call Center Coaching?
If you have a quality assurance process in place, it's likely that coaching is already a part of it. However, it's probably a separate task in many ways, conducted on different platforms, with a variety of disparate tools and disconnected data.
With integrated call center coaching, you can merge your QA and coaching processes completely, eliminating any friction for a more efficient coaching process based on real-world QA data.
With an integrated approach, you can carry out coaching sessions within your existing QA infrastructure. This doesn't only save time and money, it also makes the process more targeted and trackable, establishing a clear link between KPIs and coaching outcomes.
Isn't It the Same as Traditional Call Center Coaching?
While an integrated approach shares the same primary aims as traditional call center coaching—improved CX, better engagement, increased productivity—they differ considerably in their execution.
By embedding everything into your QA workflow, the integrated approach accelerates the impact of coaching. You can deliver real-time feedback so agents can adjust and learn on the fly. With the traditional approach, you'd likely have to wait until your next session.
Not only is the coaching process quicker, it's also more targeted and effective. With a data-backed approach, you can identify the root causes behind weak metrics and personalize your coaching sessions according to individual needs.
This ability to bring quantifiable data to the table also improves agent buy-in. When they can see the weak spots for themselves, it's a more compelling reason to take training seriously than just hearing about it from a supervisor.
What Are the Top Benefits of Integrated Call Center Coaching?
Adapting an integrated approach to call center coaching enhances many of the key outcomes of traditional methods, while also bringing a set of additional benefits as a result of merging QA and coaching.
Streamlined Training Journey
By keeping all coaching tools and data within your existing QA infrastructure, you can develop standardized coaching workflows. This eliminates inconsistent ad hoc sessions and streamlines the training journey for both agents and supervisors.
With research finding that it takes managers five times as long to prepare a coaching session as it does to deliver it, automating and scaling the process within your existing QA can enable significant savings on time and resources.
Targeted Coaching
Using real-world QA data to inform your coaching sessions, you can deliver personalized training relevant to each individual agent. With insights into every aspect of an agent's performance, you can target specific weak spots to enhance learning outcomes.
For example, analysis of QA data may reveal that an agent delivers strong CSAT scores for phone calls but not over live chat. Using this information, you can design a coaching plan that focuses specifically on improving their communication skills for chat interactions.
Increased Productivity
Coaching and training are key drivers of employee productivity. Last year, companies that invested in employee development saw increases of 58 percent in employee retention and 24 percent in productivity.
With integrated coaching, you can take this even further. Automation of manual tasks frees up time for customer-focused duties, while the delivery of coaching within an agent's existing interface turns idle time into an opportunity for learning.
Improved Agent Engagement and Reduced Churn
Agent attrition is a persistent challenge for call center leaders, but thankfully, coaching can help. 76 percent of employees state that they're more likely to stay with a company that offers continuous learning and development, a key aspect of the integrated coaching model.
As noted, integrated coaching enables personalized coaching plans. The more you can tailor each coaching session for a particular agent, the more likely they are to engage with the material and grow in confidence. This is vital to reducing churn in your call center.
Clear Visibility
Like all contact center functions, you want to be able to track the impact of your coaching over time and, if necessary, make adjustments to improve the outcomes. Merging quality assurance and coaching simplifies this process considerably.
If you have all data on QA and coaching in one place, you can easily track and measure the impact of your training strategy on the metrics that matter to your business. You can even dig further in and monitor the impact of task and course completion on individual agent KPIs.
Continuous Learning
As we've seen, a culture of ongoing learning and development is important to employees. With integrated coaching, you can build learning paths, assign follow-up tasks, and provide support materials so agents can implement the feedback they receive in their day-to-day.
This instills learning as a daily practice, not just something to think about during coaching sessions. As well as boosting agent morale, it's key to achieving results, with data showing that it takes agents an average of 4 coaching sessions before they implement a new skill.
Enhanced Customer Experience
The targeted improvements enabled by integrated coaching lead to a stronger collective customer experience. With nearly 50 percent of agents struggling to manage difficult interactions, improving CX is key to boosting satisfaction, loyalty, and retention.
Additionally, the standardization of workflows as part of an integrated approach makes for a more consistent service level. You're able to clearly define best practices, establish guidelines, and reduce the time it takes agents to resolve customer queries.
Revenue Boost
The outcomes we've discussed above, such as increased productivity and improved CX, all contribute to higher customer lifetime values, a key driver of overall revenue generation, with current customers spending an average of 67 percent more than new ones.
Additionally, improved agent engagement and the resulting decrease in churn can save on hiring and onboarding costs, two significant expenses that can end up eating into your bottom line.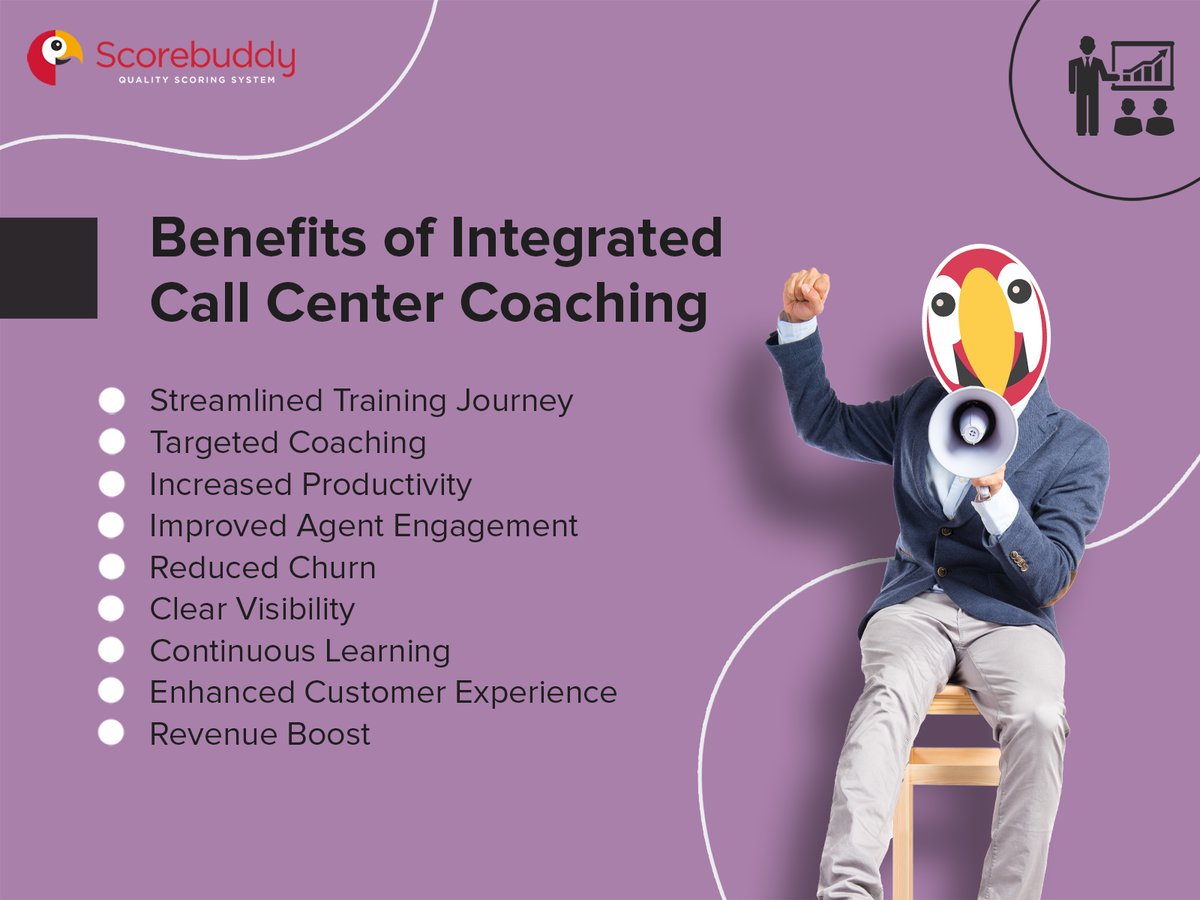 Top Things to Be Mindful of When Introducing Integrated Coaching in Your Call Center
As with any new tool, there are certain challenges you must remain mindful of when introducing integrated call center coaching to your organization.
Resistance to Change
No matter how clear the benefits are, any effort to bring about change in an established system will always face some degree of resistance. Integrated call center coaching is no different, and it's possible that some agents and supervisors will push back initially.
Initial Time Investment
Setting up and configuring a new tool, especially if you are inserting it into an established workflow, can require a certain level of time commitment. In the fast-paced, high-pressure environment of a contact center, finding such time can be an issue.
Thankfully, forward-thinking QA solution providers have designed integrated coaching tools that slot seamlessly into your existing workflow, eliminating the need to invest significant time in the initial setup.
Over-Reliance on Automation
The benefits of technology are clear to see. In the context of integrated coaching, digital tools can help us to analyze data, create training plans, and deliver targeted coaching, without even switching between platforms.
However, it's important to remember that human oversight and input are always necessary to guide technology. Don't just set up your coaching software and leave the rest to automation; be sure to review and update regularly to ensure alignment with your goals.
Technology Integration
If your agents or supervisors are unfamiliar with the technology involved, there may be a slight learning curve. In most cases, this is easily remedied with a chance to get to grips with the new tools and a few training sessions.
Whether it's just the integrated coaching functionality or both the QA tool and its coaching component, you'll need to make sure that everyone—agents, supervisors, managers, evaluators—are trained to use the new software effectively.
Quality Control
If you're implementing a new coaching model, you'll want to ensure that you have a robust QA process in place to measure its impact and the efficacy of the new approach. In the initial stages of implementation, this may mean extra quality control is required.
It's unlikely that any coaching process will yield optimal results right from the outset. It's important that you monitor any changes, assess their impact, and make data-informed changes necessary to improve coaching outcomes.
How Can You Make the Most of Integrated Call Center Coaching?
We've seen the varied benefits that integrated coaching can bring. Now it's time to learn exactly what you should do to make the most of this approach for your call center.
Define Your Goals
Without a destination, it's hard to chart the journey. Decide what your aims are, and this will inform your long-term coaching strategy. Do you want to focus on soft skills or hard skills? Is the core aim to improve first call resolution, or are you more concerned with CSAT? By defining goals, you're setting clear expectations and criteria for the program's success.
Introduce Gradually
Slow and steady wins the race here. Introducing a new approach can be overwhelming, particularly if you've been working with a longstanding coaching program, so it's important that you don't overwhelm agents and supervisors. In the early stages, keep sessions short and focused. This will hold the agent's attention and force the coach to stay on point.
Provide Training
You can't drop your employees into a brand new system and expect them to hit the ground running. Both agents and coaches will need to learn the ropes. If you're adding a module to your existing QA platform, it should be seamless, and self-directed learning might be sufficient. If both the QA and coaching is new, you'll need to dedicate more time to training.
Leverage (The Right) Technology
In addition to your integrated coaching tool, you can leverage elements of your existing tech stack to support the process. Things like call recording and speech and text analytics can help to identify target areas for coaching, while AI and machine learning can even deliver real-time feedback to agents during customer interactions.
Balance Automation and Human Input
You need to strike a balance between automation and human input. While automation can help streamline the process, leading to improvements in operational efficiency, human input will be necessary to extract the most value from coaching. Automated feedback only goes so far without human supervisors to engage with the agent and offer context during sessions.
Establish a Culture of Learning
94 percent of agents say they would stay longer with a company that invests in their careers, and offering learning opportunities is pivotal to this. By establishing the benefits of coaching for employees' professional development and rewarding them for hitting learning milestones, you can cultivate a culture of learning in your call center.
Gather Feedback
Listen to your agents so you can learn what aspects of your coaching methods are and aren't working from their perspective—not just in terms of the overall strategy but also down to the granular level of individual sessions. By gathering feedback, and acting on it in some cases, you can improve coaching outcomes while also making agents feel valued.
Analyze and Improve
Coaching is the basis of an ongoing learning process—not just for agents but also for those in charge of strategy. You must evaluate and, if necessary, update your coaching program on a regular basis to keep it fresh and effective. Remember those goals you defined earlier? Analysis of coaching and its impact is key to achieving them.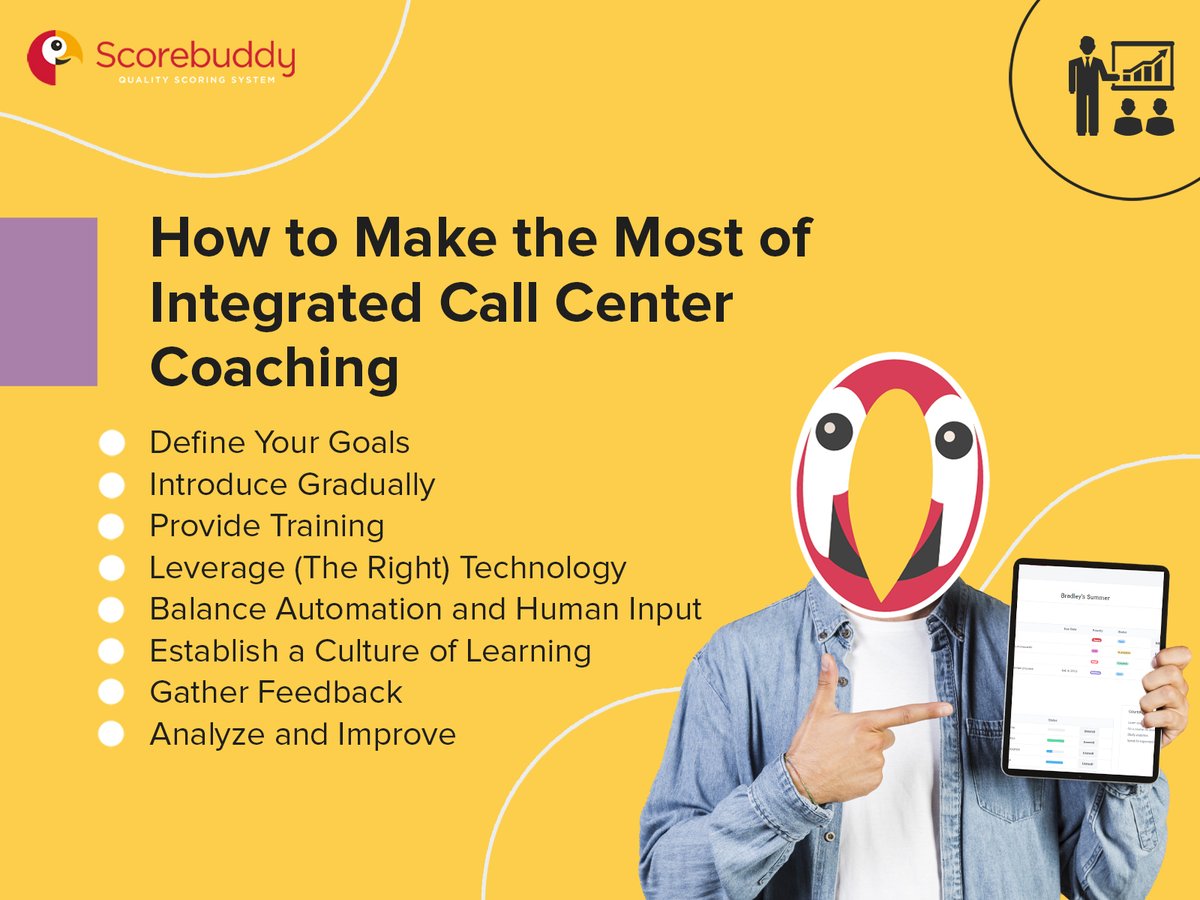 How Can Scorebuddy Help?
Wouldn't it be great if you could seamlessly integrate coaching into your QA infrastructure without disrupting existing workflows? Well, you can! Scorebuddy Coaching, launching September 20, brings all the benefits of integrated coaching to your desktop:
Create custom GROW-inspired training journeys
Seize data-backed development opportunities
Standardize workflows for coaching consistency
Measure and track progress with on-platform reporting
Get started instantly with built-in templates
And much more


Keep your eyes peeled. We'll be sharing plenty of sneak peeks at Scorebuddy Coaching ahead of launch.
Contact Center Coaching Best Practices
Do you need to improve call center performance? You're not alone!
Keeping up with customer expectations is the #1 service challenge, according to a 2019 Customer Service Trends report by Salesforce. The same report reveals that 4 out of 5 customers say their experience is as important as products.
So, how do you meet the needs of today's customers when they are more innovative, more skeptical, and have higher expectations than ever before?
Call center training can ensure that you provide your customers with the experience they expect and deserve. The good news is that your employees want training. According to long-term research from Middlesex University, 74% of workers feel they aren't achieving their full potential at work due to a lack of development opportunities.
When you offer high-quality training, you can:
The question is: how do you provide call center training that works?
16 Call Center Training Tips and Best Practices
Below is a list of 16 quick call center training tips that you can start using immediately to boost your call center performance, improve the customer experience, and develop exceptional quality assurance.
Tip 1: Give Agents Positive Reinforcement
Comment on, congratulate or formally recognize your call center agents when they perform well. Gallup studies reveal that employee recognition is critical to influencing employee engagement and organizational performance.
Recognition, when visible to other employees, is a call center training best practice that will boost your agents' performance. It is also likely to motivate all of your employees to replicate their celebrated colleague's behavior.
Just make sure you recognize top-performing employees promptly. Don't wait to motivate employees on a quarterly or annual basis. Recognize good work immediately and often.
Tip 2: Implement Agent Cross-Training
We're not talking about the fitness type of cross-training! Cross-training involves taking the agent out of their usual environment of answering customer calls or emails, etc., and training them on other business sides that are impacted by customer service.
According to a 2018 academic research paper, cross-training is among the most effective methods of improving individual and team performance while driving employee efficiency.
Moving your call center agents to a different department or team every few months will upskill them, but it will also help boost morale. Doing well prevents agents from falling into the trap of tedious, repetitive work. Cross-training gives agents a chance to learn more about your business as a whole, and it can be an excellent opportunity for them to progress in their careers. Just be sure the cross-training skills your agents gain are transferable!
Tip 3: Give Agents More Time For Regular Training
According to a 2020 LinkedIn report, 49% of learners admit that they don't have enough time to learn at work. At the same time, 94% said they see the career benefits of making time to learn.
It cannot be easy to justify more time for learning at work because people have a full schedule and many tasks need attention. But it's worth it. There's a significant return on investment for spending just an additional 15 minutes per week conducting call center training.
And if you're struggling to provide more training time, consider cutting time from activities that don't add as much value. The truth is that if your call center coaching tools are practical, performance will improve, as will all other metrics associated with that.
Tip 4: Empower Your Customer Service Agents
Your agents' performance will improve five-fold if they are given control of their training. Your agents should have access to data about their performance to perform a gap analysis on their skills and identify where and how they can improve. This means empowering your agents through access to performance reviews, agenda-setting, goal-setting, and other items.
One way to do this is with Scorebuddy self-scorecards. Agents can use these cards to give themselves precise feedback on their performance with customers. From there, your management team can work with your agents to set goals for coaching and training, even allowing them to choose the type of rewards they want for meeting milestones.
When you encourage your agents to focus on their strengths and weaknesses, you produce happier and more engaged employees. These employees also end up providing better customer service. It's a win-win for everyone.
Tip 5: Train for Agent Knowledge Gaps
Lack of knowledge and skills is likely a huge problem for your employees. In fact,, 70% of employees report that they don't have mastery of the skills needed to do their jobs.
However, you have to be careful about designing call center training programs you think your agents need; that will waste time and money. According to McKinsey, only 25% of employees believe that training measurably improves performance.
To avoid falling into this training trap, research the knowledge gaps with quality monitoring and performance review tools. Then, tailor-make training for what's needed. Making assumptions could be a costly mistake!
Tip 6: Train for Agent Soft Skills, Including Emotional Intelligence
Only 38% of managers believe their training fits their learner's needs. And this is especially true when your training only focuses on knowledge gaps and not soft skills. Soft skills are essential to your agents' success and quality customer experiences.
To train soft agent skills, you must first identify critical customer service soft skills, such as communication, adaptability, initiative, teamwork, empathy, integrity, problem-solving, and emotional intelligence. From there, you need to develop an effective soft skills training plan.
As part of this training plan, you'll need to hire soft-skills agents and then implement regular soft skills training opportunities and exercises. For example, once you can review customer service calls and role-play the interactions for better results once a month can also make analyzing soft skills an essential element of agent self-combining
The key is to combine engaging soft skills training content with modern technology and a strategic partnership between your leadership team and agents to get the best results. Your company will be rewarded with better call center results, employee retention, and more loyal staff.
Tip 7: Make Training Fun Through Gamification
Most employees find training uninspiring. They're easily bored by the content, which is a huge barrier to learning. Instead, you need to develop training programs that are entertaining and informational, which is where gamification can help.
While games might seem trivial, they are an excellent way to foster teamwork, increase engagement, raise energy levels, and encourage skill retention during training. The idea is to reward agents as they reach certain activity levels with badges, performance bonuses, and other benefits.
You can also implement call center training games to build creativity into your learning program. Ideas include:
Break the Ice: Give everyone on your team a chance to know everyone else with fun ice-breaking ideas.

Are You Listening: Test your agents' abilities to listen by asking a tricky question and tasking your agents with finding the solution.

Telephone: Test how well your agents communicate with each other in this classic children's game.

Do You Remember: Test your agents' ability to remember key facts using small groups and questions.

Angry and Happy Customer: Test whether your agents can handle angry and happy customers and how well they do.
Tip 8: Provide Mentorship Opportunities
Mentoring your agents can prove invaluable. A mentor acts as a go-to guide throughout the training process and beyond. They can help demystify complex issues while also offering agents a more in-depth look at what they can expect in the future.
Mentoring is also about real-world value. Mentors become a valuable networking asset for the employee—someone they can leverage for career advancement. In addition, a mentor is one of the best individuals to encourage agents to pick up new skills and try to go to the next level.
And don't forget the value of reverse mentoring as well. In this scenario, your agents are responsible for teaching others, which is one of the best ways to retain information, expand viewpoints, and gain new skill sets.
Tip 9: Work Alongside Your Agents
It's incredible how much you can understand a person's role and how they might feel if you walk in their shoes for a day. By sitting next to agents, you'll be better equipped to help and empathize with them and deliver practical call center training tips. In addition, they are more likely to be susceptible to your suggestions.
Regularly sit in on agent calls to listen, see, and feel what they are going through. Then you can provide feedback. Remember, sometimes call center coaching sessions are an avenue for agents to vent their grievances. Often, poor performance is not due to a lack of skill but an overload of frustration.
Working alongside agents will help you understand these day-to-day agitations that can get under anyone's skin. Agents often know the solutions to their problems and don't need a coach to point them out; they need someone to care for and understand the issues.
Tip 10: Use Benchmark Calls and Call Monitoring Forms
When training, excellent and lousy benchmark calls are a great way to dissect a conversation, provide call center training techniques, and allow agents to validate their performance. A call monitoring form is critical to this evaluation.
Call center QA forms provide your management team and agents with essential feedback on how well or poorly a customer interaction was handled. This form can then be used to train and motivate agents, identify trends, and reveal areas lacking.
And while every call monitoring form should be customized to your business sector and company priorities, there are four essential areas for training:
Soft Skills: Your call monitoring form should have a section that allows you to test your agent's communication skills, professionalism, ability to gain customer trust, product knowledge, and problem-solving.

Processes: The form should answer the question, how well did your agent follow all of the correct processes when it comes to customer service?

Compliance: Compliance is an increasingly severe risk for most call centers. Your call monitoring form should help you determine if your agent passed or failed basic compliance requirements.

Outcomes: The key to measuring outcomes within your call center monitoring software is putting all customer insight on one page. You should include your soft skills, process, and compliance monitoring results in a single dashboard.
Tip 11: Give Balanced Feedback
According to a survey on how companies could help employees be more successful, most employees (37%) cite recognition as the most crucial method of support. That means feedback can't only be negative. It is just as important, if not more important, to recognize good work privately and publicly.
Use your judgment to assess to what extent you give both kinds of call center coaching. Competitive high performers might either crave constructive criticism or recognition for excellent work. The last thing you want any call center agents thinking about a call center coaching session is, "What have I done wrong now?"
There are a few keys to balanced feedback:
Be specific and relevant about employee accomplishments and areas for improvement. When you recognize particular behavior—for good or bad—your agent is encouraged to strive for solid performance.

Share feedback promptly, instead of months after the fact, so it feels authentic.

Remember that feedback comes in many forms. You can recognize employees via more than words with bonuses, raises, gifts, etc.

Find little accomplishments to highlight, especially if negative feedback has been raining down.
Connect your feedback to the bigger picture so that your agents understand how their work impacts the company.
Tip 12: Ask Agents to Select Their Calls for Feedback
According to a Gallup State of the Local Workplace study, actively engaging your employees is key to productivity. To engage your agents, they need to feel like they are valuable members of your call center team. That means you need to give them ways to participate in the decision-making and training processes.
Ask agents to submit their good and bad calls for assessment. Lessons will resonate quicker on their calls, and you'll be amazed at agents' honesty in both knowledge gaps and problem identification.
Self-scoring is also a less threatening way for agents to scrutinize their customer interactions and identify areas for improvement. It empowers your agents to invest in their careers. Just make sure you set clear quality guidelines before allowing agents to self-score so that the results match your goals.
Tip 13: Schedule Regular 1-to-1s
Your agents are individuals. This means that they need individual training to match their personal and professional backgrounds and needs. Regular one-on-one meetings are crucial for call center staff to feel appreciated, connected and cared for. These individual sessions will also help you develop personal, practical, and effective training protocols.
"One-on-ones are one of the most important productivity tools you have as a manager," writes Elizabeth Grace Saunders, the founder of Real Life E Time Coaching and Training. "They are where you can ask strategic questions such as, are we focused on the right things? And from a rapport point of view, they are how you show employees that you value them and care about them."
The truth is that call center agents deal with customers every day. It can be tiring, draining, and thankless job. Regular one-to-ones create a more informal environment that focuses on relationships. This is how you foster trust among your team.
Tip 14: Personal and Professional Development
Agents are humans with lives outside of the contact center and career aspirations. 54% of employees would spend more time learning if they had specific course recommendations to help them reach their career goals. Personal development is crucial for nurturing any employees.
The reality is that only a small percentage of agents in your call center wants to remain as agents in the long term. When the right learning content is delivered to agents in the right way, and at the right time, they're more likely to be engaged in your training and spend more time learning.
Try linking training and performance metrics to promotions, increased salary, and opportunities to work in other business areas they are interested in.
Tip 15: Use an LMS to Help with Call Center Training
60% of agents agree that their company doesn't always provide the technology they need. A learning management system (LMS) is one of those essential tools for call center training. And it's precious in a world where 57% of learning and development professionals spend more time online learning than they did three years ago.
An LMS works as a centralized, all-in-one training solution to more easmore efficiently track and achieve your learning goals. It simplifies how you deliver training anywhere and anytime through course management and a blended learning experience. Through its on-demand and dynamic platform, LMS can help you:
Identify games in training and learning.

Create, manage, and deliver education courses and training programs.

Automate and scale to meet your training needs

Track, document, and report on training effectiveness.
Tip 16: Adjust Training Tips for Remote Agents
Remote call centers aren't just a new idea for the pandemic. Working remotely has been a trend for a while, and a good reason. According to Snapcomms, "It's estimated that every staff member who works from home saves the employer $25,000."
The key is training your remote agents to provide the same high-quality customer service as in the office while improving your ROI. To do this, there are seven critical tips for training remote agents:
Create a learning and development strategy
Build trust with your remote agents
Hold one-on-one video calls
Conduct virtual classroom sessions
Create eLearning content
Institute remote training tools
Hire the suitable remote agents
Tracking the Success of Your Call Center Training
Okay, let's say you've implemented all of the call center training tips outlined above. How do you know if it's working? You need a tool that tells you how well your agents are handling every customer interaction and if they are meeting your performance expectations.
Scorebuddy is an all-in-one call center monitoring platform customizable to your specific needs. You can set it up to track processes, compliance, and how well you're meeting desired outcomes. You can evaluate calls, review emails, monitor chat, check social media, etc. Scorebuddy even helps you dig deep to identify training gaps, carry out root-cause analysis, and reveal agent successes.
And with Scorebuddy's new LMS alongside our rich library of curated content inside the Scorebuddy Academy, call center training has never been more accessible. It is the first of its kind, fully integrated contact center quality, customer sentiment, and learning & development suite.
Conclusion
Integrated call center coaching is key to meeting customer expectations, reducing agent churn, and improving KPIs across the board. By leveraging the data output of your existing QA process, you can streamline your coaching process and personalize it to meet individual agent needs.
With Scorebuddy Coaching, you can merge coaching and QA seamlessly to improve outcomes for agents, supervisors, and the C-suite. Want to be the first to try out Scorebuddy Coaching?
Learn more and request your free trial today.