Rising customer expectations, demanding performance targets, emerging new technology—working in a call center can be challenging. How can you get your agents performing at their best without burnout? Integrated call center coaching.

By leveraging integrated coaching, you can merge quality assurance and coaching for a frictionless experience. No more jumping between screens, working across disconnected tools, or transferring data between spreadsheets. It's time to focus on the agent and their performance.
We understand the importance of effective coaching. When you engage with agents directly, it's much easier to build rapport and get them excited about their improvement and career progression. This, in turn, takes your call center performance to the next level.

After listening to our customers, analyzing industry trends, and studying existing tools, we saw an opportunity to better support our clients. That's why we built Scorebuddy Coaching—an integrated solution that slots right into your existing QA infrastructure.
Introducing Scorebuddy Coaching
Coaching is already part of your QA process. Now, with Scorebuddy Coaching, you can engage directly with agents without ever leaving your QA solution. No disruption to your existing workflows, our new module slots right in.

By leveraging data from your existing QA process, you can develop tailored training plans for each individual agent. Not only does this improve engagement and reduce churn, it also enhances the customer experience, leading to better scores for CSAT, NPS, and more.

This isn't about adding extra bells and whistles to your coaching solution or allocating additional resources. It's about making clever use of your existing workflows to increase the impact of coaching and get a better ROI from each session.

It's targeted, it's trackable, and it's backed by real-world data. No more blanket approaches—with Scorebuddy Coaching, you can tie coaching sessions directly to customer interactions and agent behaviors to make them relevant and impactful.
Pinpoint Agent Development Opportunities
The success of your contact center hinges on the combined impact of each individual agent. By identifying development opportunities for your employees, you're not only keeping them engaged in their work, you're contributing to wider organizational growth.

Scorebuddy Coaching turns every interaction into an opportunity for learning. You can connect coaching sessions directly to specific customer interactions and agent behaviors to make them more engaging.

QA data from scorecard evaluations, call recordings, analytics, and more offers detailed performance insights so you can target individual weak spots and boost customer service KPIs while improving agent engagement.

"Disengaged agents are 11 percent less likely to provide first call resolution (FCR) and 14 percent more likely to make customers repeat information" - Gartner.

The more specific you can make each coaching session, the more likely the agent is to engage. It's hard to argue with verifiable data. For example, if evaluations identify a trend of lengthy FCR for billing queries, you can focus on billing knowledge in your next session.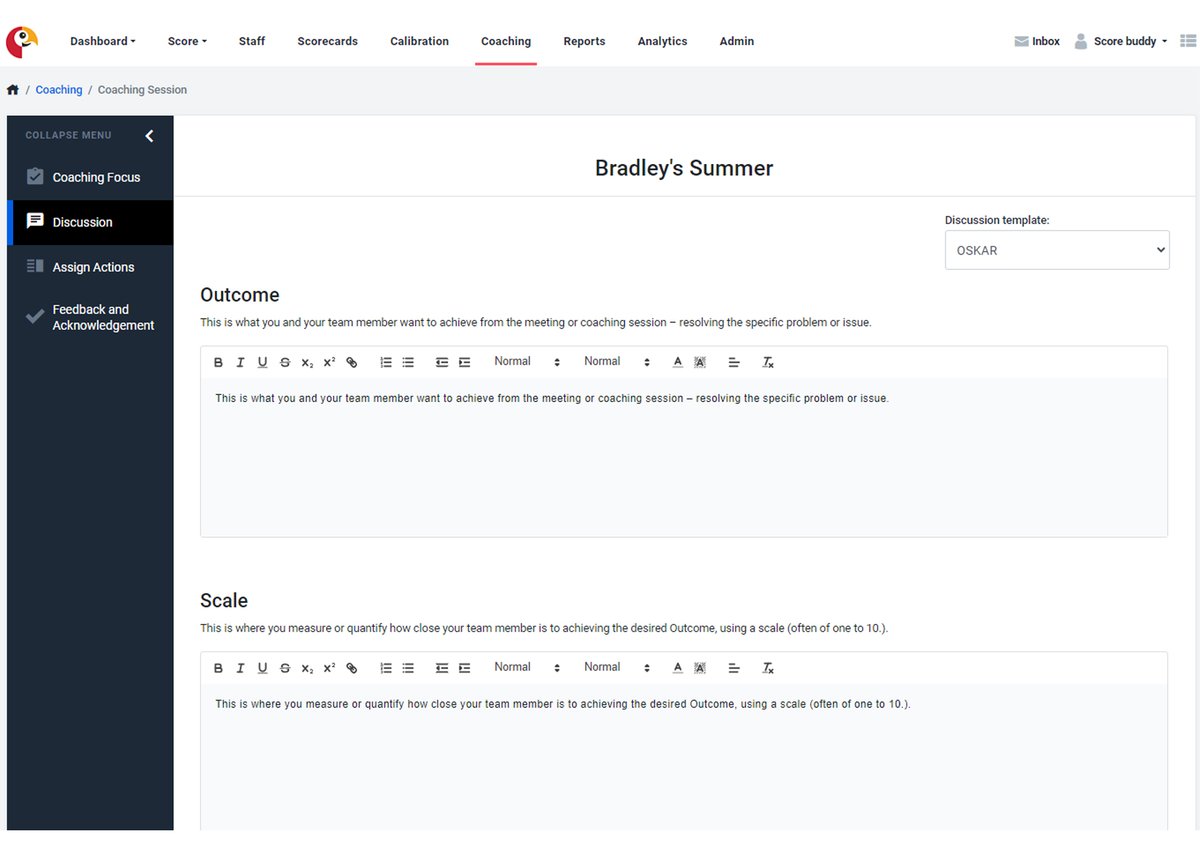 Address Issues Before They Can Escalate
With Scorebuddy Coaching, you can use your QA data to proactively identify potential issues and take corrective action. Instead of waiting for something to go wrong and playing catch-up, you can fix problems before they've even occurred.

Not only does this approach save time and money in the long run, it also empowers agents to deliver the best possible CX at all times. This can have a significant impact on call center metrics like customer satisfaction score, Net Promoter Score, and customer effort score.

Built-in support for standardized workflows also lowers the chances of performance issues by eliminating ad hoc coaching in favor of a more consistent approach. This consistency in coaching ensures a certain standard of service across all agents and teams.

By clearly defining best practices and interaction behaviors through coaching, you can better instill these guidelines throughout the organization. This means all customers will receive a high level of service regardless of who they interact with, further boosting CSAT and NPS.
Accelerate Your Coaching With GROW, OSKAR, and CLEAR
Scorebuddy Coaching comes with a variety of built-in templates based on the most tried-and-tested coaching models in the industry, so you can get set up quickly and make a positive impact on agent performance. These coaching models include:


The GROW Coaching Methodology: Help agents set goals (G), explore their current reality (R), generate options (O), and create an action plan (W).
The OSKAR Coaching Framework: Coach ways of working through a 5-step process—Outcome, Scaling, Know-how and resources, Affirm and action, and Review.
The CLEAR Coaching Model: Help agents understand motivations through Contracting, Listening, Exploring, Action, and Review.

Lengthy preparation times are a big obstacle when it comes to call center coaching, with research finding that managers are spending 2 to 3 hours preparing for every 34 minutes of actual coaching.

Scorebuddy Coaching bypasses the manual configuration process to speed this process up. Just pick a template, set up a session, and deliver out-of-the-box coaching in a few clicks. Spend less time preparing sessions and more time working with agents.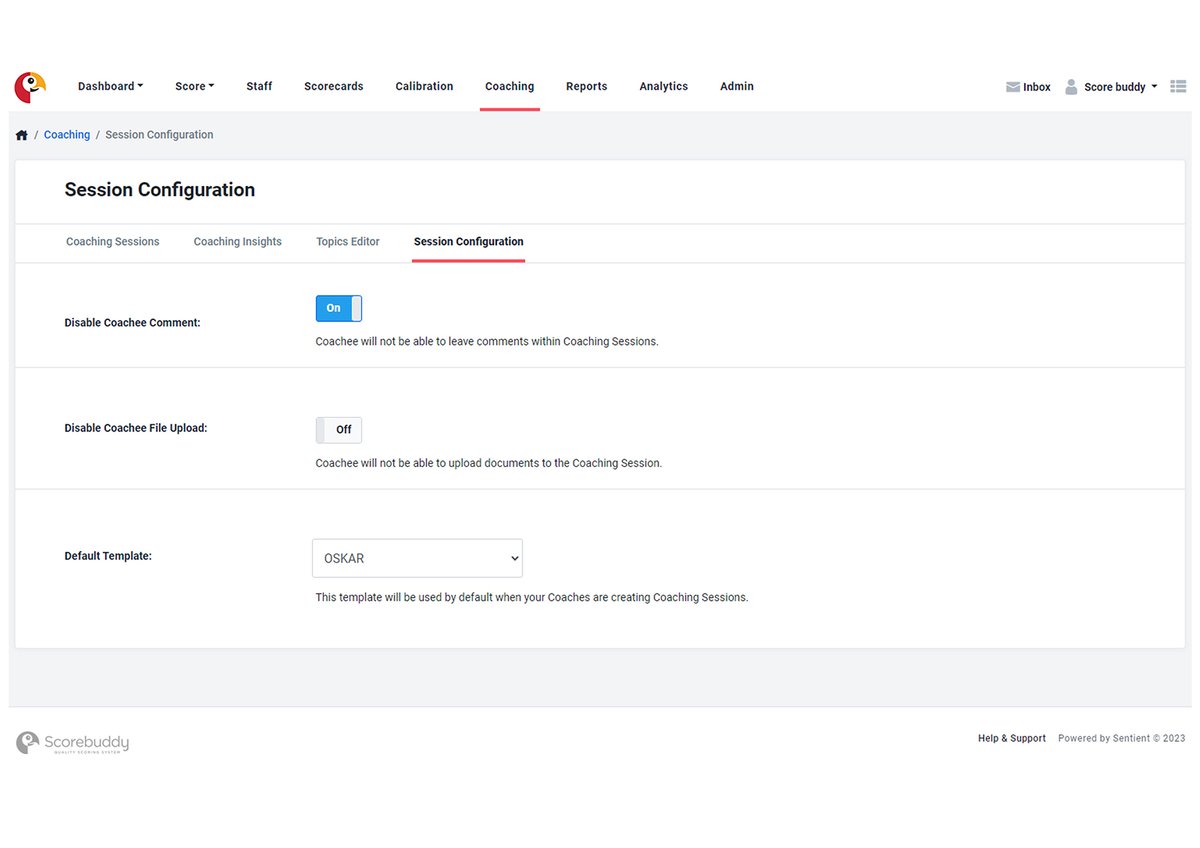 Give the Power Back to the Agents
With over half of CX leaders naming recruiting and retaining talent as their biggest challenge, it's vital that you do anything you can to keep agents engaged. Only one in three customer reps are engaged—but coaching can change this.

Scorebuddy Coaching is designed to encourage agent-supervisor collaboration and improve their relationships. With integrated coaching, you can cultivate an environment where agent feedback is built into the coaching process, empowering your staff.

Using Scorebuddy Coaching alongside scorecards, you could, for example, request feedback about your wider coaching strategy, as well as the specifics of individual sessions. This feedback can inform your approach, while also making agents feel valued.

If you can consistently remind agents of their importance through a transparent coaching process, they will feel empowered to take control of their own development. Empowered agents perform better and, vitally, they're more engaged—a key factor in reducing churn.
Gain Visibility Into the Entire Training Journey
Full visibility into the training journey (from assignment to task completion) is essential, not only to monitor the progress of each agent but also to understand what aspects of your coaching strategy are (and aren't) working. With these insights, you can refine your approach over time.

Integrated coaching streamlines this. All your data is in one place, so you can track the impact of coaching on specific behaviors and interactions. For example, if an agent's average handle time is up, you can identify and address this immediately, without leaving the platform.

With less than a quarter of executives describing their companies as data-driven, integrated coaching offers a competitive edge. By combining Scorebuddy's coaching and business intelligence modules, you can personalize training for maximum impact.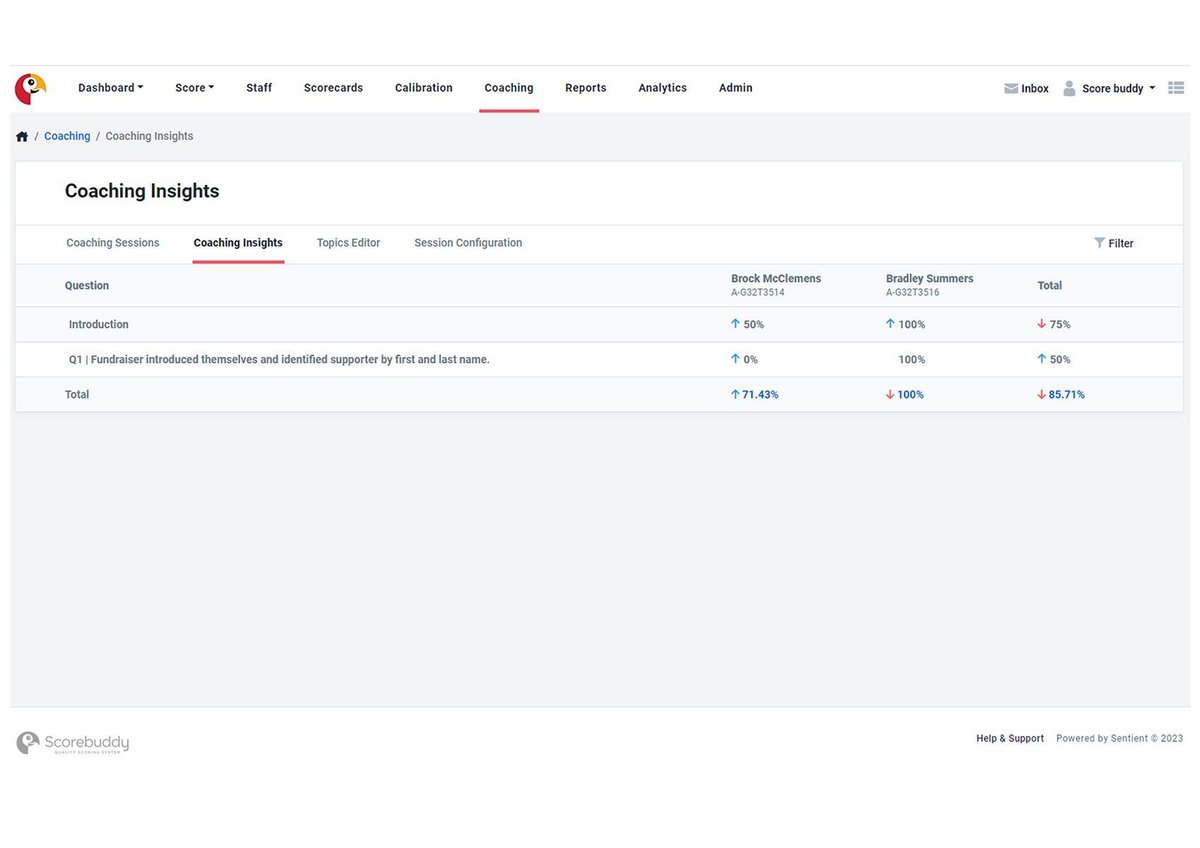 Support Continuous Learning
Ongoing coaching and call center agent training are essential in a contact center—for both performance and engagement. In fact, 76 percent of employees say they are more likely to stay with a company that offers continuous learning and development.

With Scorebuddy Coaching, you can assign follow-up tasks and provide learning materials, so agents have an incentive to implement feedback in their daily work. This reinforces the idea that coaching is an ongoing process, not something that's limited to individual sessions.

This approach can also improve productivity. By delivering real-time feedback directly into the agent's existing interface, you can swap idle time for bite-sized learning, improving skill sets while maximizing productivity.

With research showing that it takes agents 4 sessions to implement a new skill, continuous learning can expedite this process and cement learnings quicker. This helps provide agents with the tools to grow and advance within your organization.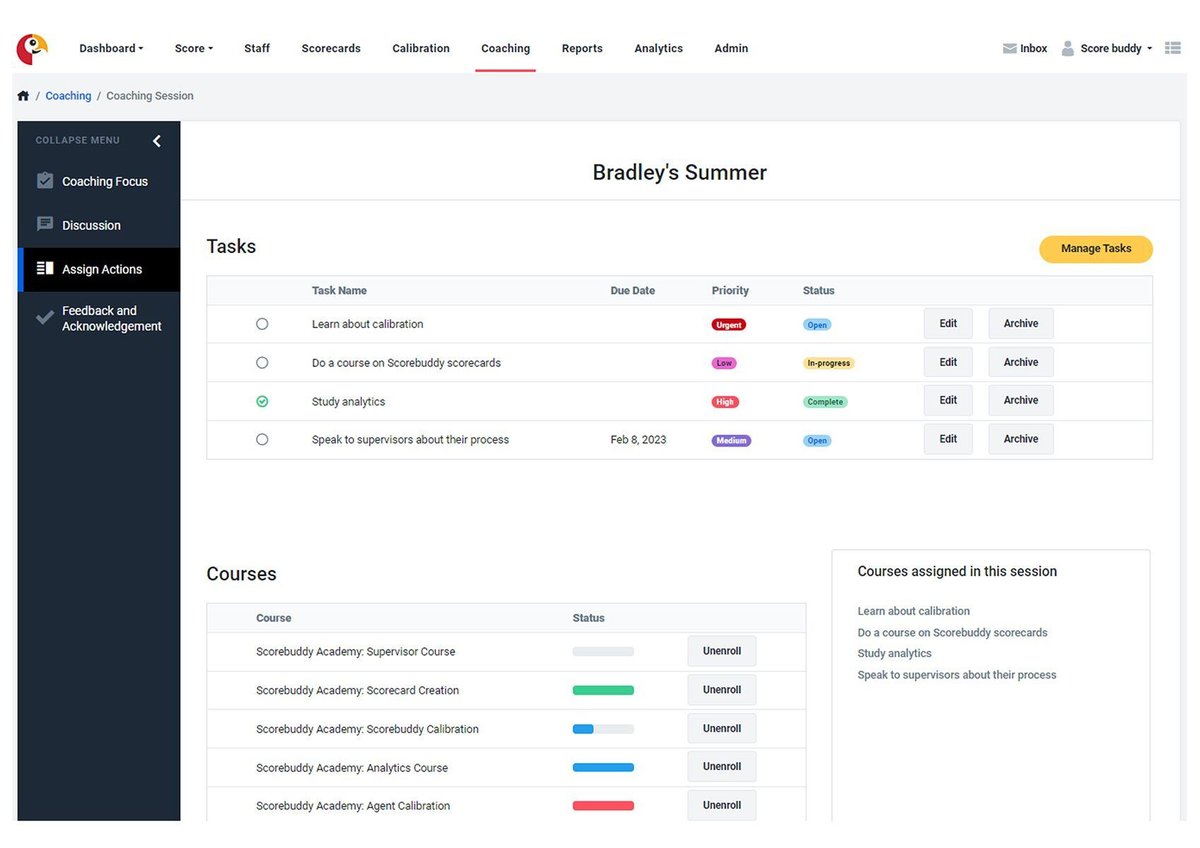 Deliver Tailored Coaching That Makes a Difference
Gartner finds that the biggest predictor of agent disengagement is a lack of clarity around role and purpose. Scorebuddy Coaching allows you to provide tailored coaching that fits the individual needs of each agent, so they know exactly where they stand and how to succeed. This improves both agent engagement and overall call center performance.

Say your QA reporting shows that Agent X is putting up low CSAT scores for conflict interactions. With integrated coaching, you can develop a targeted training plan focused on conflict resolution, backed up by real-world data from these interactions.

Not only will this make the training more effective, it will also make it more impactful. If you can show Agent X concrete examples of where they went wrong and how to improve, they're more likely to buy in and engage with the training.

You don't need to invest in extra resources to create tailored sessions. With Scorebuddy Coaching slotting right into your existing QA infrastructure, you can leverage the data you already have to ensure that every session has a definite purpose and no time is wasted.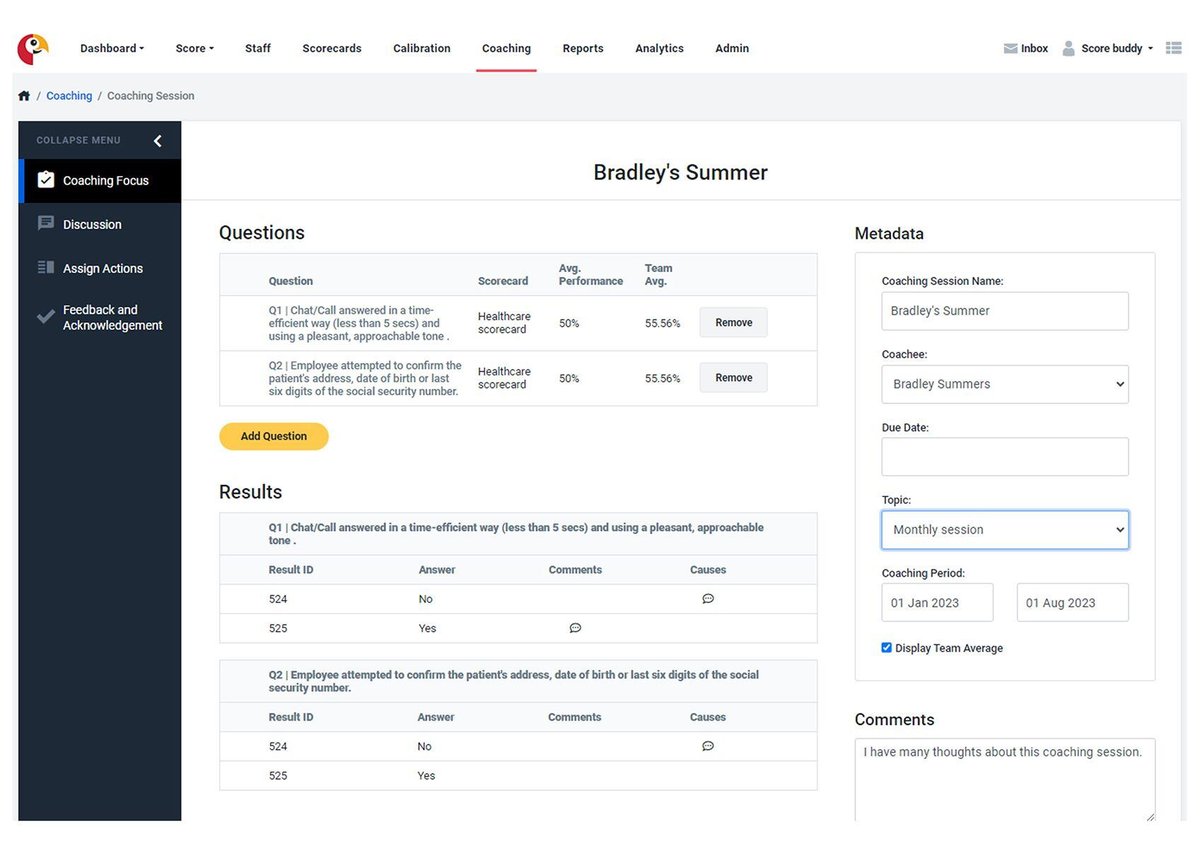 Conclusion
Merging coaching and quality assurance is key to getting the best out of both processes. With QA data informing coaching strategy and coaching outcomes improving QA scores, you can develop a feedback loop of constant growth and improvement.

Scorebuddy Coaching fits seamlessly into your current QA workflows, so you can enhance your coaching process without disrupting existing operations:


Seamlessly integrate coaching with existing workflows
No more spreadsheets—keep everything you need on one platform
Analyze QA data for tailored, data-driven coaching
Create custom training journeys for each agent
Standardize workflows for coaching consistency
Measure coaching impact with on-platform reporting
Get started right away with built-in templates
Assign follow-up tasks for better agent engagement

The new Scorebuddy Coaching is here. Embrace the future of call center coaching and turn every agent into a quality superhero Try it free for 14 days and see what integrated coaching can do for your contact center.